Minneapolis StarTribune -Teddy Bridgewater roamed the sideline as the margin on the scoreboard grew wider and wider. Chants of "Ted-dy Ted-dy" started inside U.S. Bank Stadium…
Bridgewater has crossed many milestones in his recovery, but none more significant or rewarding than hearing his name called to enter an NFL game again…
The reaction in the stadium and along the Vikings sideline spoke to Bridgewater's popularity. He remains a beloved figure inside the organization.
Minneapolis StarTribune – Teddy Bridgewater starting Week 17 could depend on Vikings' playoff seeding.
Look, I get it. Teddy Bridgewater was supposed to be the next big thing for the Vikings. A first round pick, he went 17-11 in his first two seasons and guided the Vikings to the playoffs in just his second year. He would've won that playoff game, too, had the Vikings employed an adequate kicker.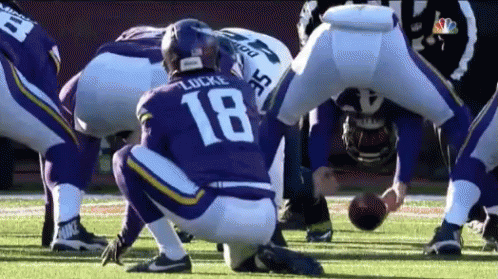 He suffered a brutal injury before the 2016 season that cost him all of that season and most of the 2017 season. He seems like a good guy, doing the best he can to get back on the field and compete. I wish him the best.
But this is the NFL. It's not for the sentimental. The show goes on. The Vikings are thisclose to a first round bye in a weak NFC. They have a great shot to make it to the Super Bowl, which as we all know is being held in Minneapolis in February. Even if they don't make it to the Super Bowl, every playoff game they host screws over the NFL as it reduces the amount of time they have to get the stadium ready for the big game. I'd also pick the Patriots to beat them by about 40 points. What's not to root for?
Case Keenum has had a great season. The third-stringer to start the year has gone 9-3, has completed 67.9% of his passes and has thrown 20 touchdowns and only 7 picks. Instead of rooting for Teddy to take the starting job back, why not enjoy the run you're on? Dance with the one who brought you.
Keenum has long reminded me of Doug Flutie. Underrated and a bit unconvential. If the Vikings bench him for Teddy for the playoffs, the comparison will be even more appropriate. Vikings fans should read up on the 1999 Buffalo Bills. They had a similar situation that year and, spoiler alert, it hasn't gone well for that franchise since. Of course, the Vikings would be better served looking at the 2001 Patriots for the proper way to handle this situation. When in doubt, do as Bill does.