The quest to see all 30 Major League Baseball ballparks is a pilgrimage for many baseball fans. On Tuesday, Papa Giorgi wrote about his quest to see all 30 Major League ballparks and and shared some thoughts from the first dozen he's been to. He also mentioned the next three ballparks on his itinerary.
That got me thinking about my itinerary. I've already been to eight current (and three former) Major League ballparks, but what would my itinerary look like if I were to start the quest from scratch today? Fenway Park, Camden Yards, Wrigley Field and Petco Park would definitely be at the top of my list. After the first dozen or so ballparks, though, my list would lose focus. Ranking parks like Safeco Field, Chase Field and Busch Stadium on the list would be a total crapshoot.
Rather than arbitrarily rank the ballparks in the middle of my list, why not eliminate some ballparks off the bat? So after some thought, if I were to start my ballpark quest today, here are the ballparks that would be the last five stops of my odyssey:
26. PROGRESSIVE FIELD Twenty years ago, there wasn't a seat to be had at Jacobs Field. The Indians sold out a then-record 455 consecutive games from June 12, 1995 to April 2, 2001, but that was a different time. Jacobs Field was brand new, the economy was strong, the Browns were out of football for three seasons and LeBron was still in Akron.
This is not a comment on the park, which by all accounts is beautiful. After some lean years post-Manny, the team is once again a perennial contender under Terry Francona. I'd love to see Tito again, but I'm just not sure when I'll be driving through Ohio on I-90 again.
27. COMERICA PARK Sorry, Detroit. While it is really cool that all four of Detroit's pro sports teams play within a mile of each other, I just don't see myself heading to Detroit anytime soon. Cleveland has the Rock and Roll Hall of Fame and Minneapolis (Bloomington, actually) has the Mall of America. I'm not sure what would ever bring me to Detroit.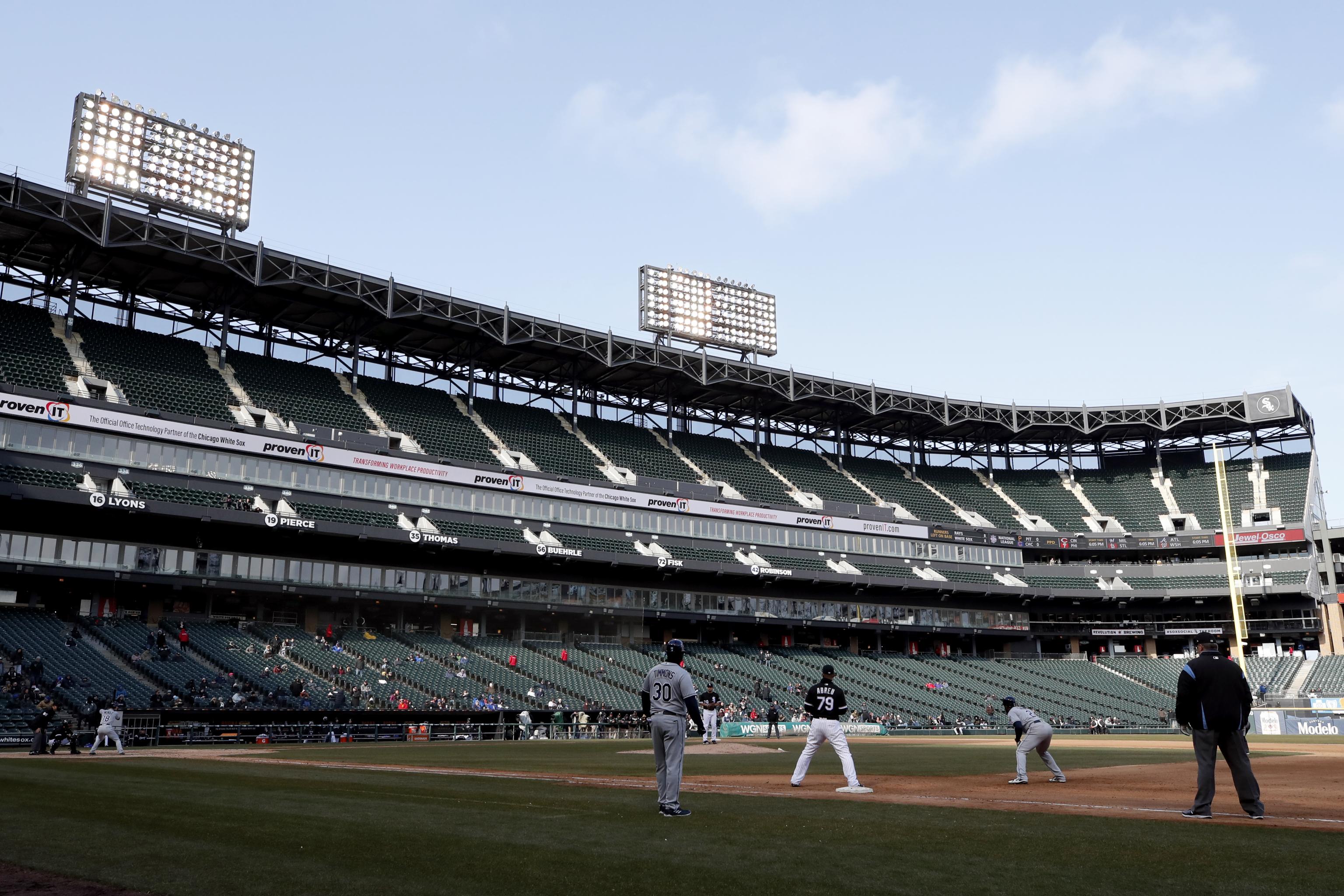 28. GUARANTEED RATE FIELD The last park built before Camden Yards and the retro ballpark movement, it's hard to believe that new Comiskey Park Guaranteed Rate Field is just 27 years old. Maybe that's because, despite its (relatively) young age, this ballpark has already undergone several rounds of extensive renovations.
I was in Chicago for a bachelor party a few years ago when the White Sox were at home and the Cubs were on the road. I drove 90 minutes north to the see the Brewers at Miller Park rather than head to the South Side. A boring team at a bland ballpark means it might be a while before I venture to the South Side.
29. ROGERS CENTRE If I were a 19-year-old sophomore at Syracuse University I would make the trek to Rogers Centre in a heartbeat to enjoy some poutine and Labatt Blue. As a grown ass man, I don't have the same desire to visit the original retractable roof.
While SkyDome was the first stadium to feature a retractable roof, it was the last stadium built to accommodate both baseball and football. This stadium looks like a concrete tomb on the outside, and feels more like a relic of the days of multi-purpose stadiums than the retractable roof trailblazer it was. Factor in how expensive international flights are, even to Canada, and it's unlikely I ever visit this ballpark unless I'm invited to a wedding at Niagara Falls some summer.
30. OAKLAND-ALAMEDA COUNTY COLISEUM Literally the biggest shit hole in the league. The A's have been trying to get out of this place for more than a decade, so why would I visit willingly? The only thing the Coliseum has going for it is its proximity to AT&T Park. AT&T Park is a top ten park. The only way I see myself ever going to the Coliseum is if the A's are at home the same weekend I go to see a Giants game.
---
Please realize that this is not a straight up ranking of the ballparks. If so, Tropicana Field would be in my bottom five. The five ballparks above are just the last five ballparks I plan to visit. If Tropicana Field were in Pittsburgh it would be on my list, but because Tampa in late March or April sounds delightful it is not.
If it seems like there is an East Coast or West Coast bias, it's because of how many ballparks can be knocked out on one trip down I-95 or the Pacific Coast Highway. Money would no doubt be a factor on my quest and checking off more than one park per trip would be a borderline requirement. That's what makes the AL Central such a challenge. If Minnesota still had the Metrodome, four of my last five trips would be to the AL Central.
If you're reading this list in St. Louis obviously your feelings will be different. Seattle might be the moon to you. I did the best I could to put my coastal biases aside and just figure out which stops would be the hardest to make, and thus last. If you feel differently, let me know in the comments or hit me up on Twitter @The300sBigZ