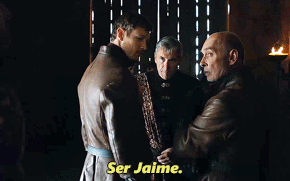 So real quick just to do a quick callback to one of our recommended binges. You may have noticed a new actor playing Sam's brother, Dickon Tarley (teehee) on Sunday's episode. Recasting has long been a headache for GOT fans. They don't always make it obvious it's a character you've seen before, especially considering, although you may not remeber, pre-"Game Of Thrones" there wasn't a lot of shows you had to remember 6,000 characters. Anyway, the dude who played Cormac McClaggen in a Harry Potter movie or two is not playing the favored Tarley brother anymore, apparently because of a scheduling conflict with another show he was set to be on – that since has been cancelled. To reiterate, he quit GAME OF THRONES to be on an ABC show, albeit in a more prevalent part, that has already been cancelled, all across about a 6 month time-span. Fire your agent bromigo.
Which brings us to his replacement, which is a curious one as physqiue/size wise they at least appear pretty different. Anyway, the actor in question is Tom Hopper, who played a character by the name of Billy Bones….
ON BLACK MOTHERFUCKIN SAILS
"Black Sails Is A Binge-Worthy Epic Majestic Unicorn"
As a "Black Sails" diehard I obviously fanboy'd out when Hopper did his little turnaround (see: I squealed like a little school girl). Lady Ballgame was not impressed and quite frankly a bit disgusted. But whatever. Believe me when I say these two things.
1.) Tom Hopper will be a star within the next couple of years. He's Charlie Hunnam with a bit better acting chops (and I love Hunnam)
2.) Too much Dickon Tarley is not enough Dickon Tarley from here on out.