natemarquardt.com – I have learned that I can trust God in every situation and need to put him first. After 22 years as an athlete in the sport of Mixed Martial Arts, I believe God is calling me in another direction. When an athlete, a fighter in particular, retires, their career's obituary is often fluffed with the notion that they retire with "nothing to prove". Well, Nate Marquardt, a fighters fighter if there ever was one, hasn't had anything to prove for quite awhile.
Marquardt began training when he was 15, wayyyy before it was a thing to do, in 1994. Although a great striker, he has always been known as an extremely talented and obscenely strong grappler. Just a bull of a guy when he gets his hands on you.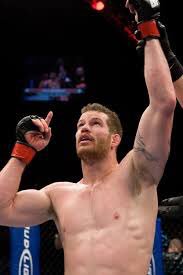 At just 21, he became the King of Pancrase (what they call a titleholder). For those not in the know, Pancrase is not only a promotion but an MMA rule set/school of thought of it's own with a few quirky rules, and Marquardt was largely dominant in it from 2000 until 2005. That year he made the move to the UFC, winning his first four fights before losing a Middleweight Title Fight to a guy named Anderson Silva.
He'd fight in the UFC for another five years, losing only three times (twice in title elimination fights against Yushin Okami and Chael P. Sonnen),  before dropping to 170 for Strikeforce and beating Tyron Woodley for the Welterweight strapped that had been vacated by Nick Diaz. He'd lose the belt in his next fight to Tarec Saffiedine (what in the fuck happened to him?) in 2013 and things have gone pretty steadily downhill since, a KO over a reeling CB Dollaway in Marquardt's fourth fight back at 185 his only win of note, if that. But he always came to fight. And there was always an air of possibility. His skill set was just too well-rounded and too high-level for there not to be.
In the end, you see a fight like his 2016 bout against Thiago Santos, where a reputable vet can have all the guile in the world and still be made mincemeat of by a younger, explosive, hungry fighter like "Maretta", and you realize it's probably time to move on.
Unbeknownst to me, and probably many more, Marquardt has become really deep in his faith and says in the blog posted above he possibly will go into sports ministry, probably with an MMA/martial arts flavor. He'll still train and teach MMA seminars, as it seems to never really leave you. To put it simply, Nate Marquardt is leaving to be 'The Great" at something else, with a greater purpose. He has nothing left to prove, after all.