Your friend Joey B grew in the same fairly mundane, average middle class suburbia as most of my fellow cohorts here at The 300s and I am sure as a lot of our readership. School buses, neighborhoods, little league, etc. etc. you know the deal.
So you probably know what I am talking about when I say that it was not drugs, or the possibility of their children using them, that put the fear of God into my parents when I was 10 years old. It wasn't gun violence, gangs, or bullies. It wasn't the priests, as they had yet to be caught
It was Eminem.
Out of nowhere in late February of 1999 Aftermath Records by way of Interscope released the Michigan MC's second studio and first major label album. The young adult audience down to kids my age were enchanted, enamored, and in awe.
Our parents were fucking terrified.
Their children had picked a new musical idol, a new pop culture craze that momentarily supplanted the absolute war machine that was Britney and the boy bands. And this new topic of every recess and lunchroom conversation was a skinny, white, bleach blond RAPPER from Detroit; constantly cursing his head off about painkillers, murder, homosexuals, rape, his beloved daughter, his hated mother, and killing himself. He was the actual aggregate of everything our parents feared we would become. And since there was nothing like him, before, during, and now, one could argue, after, they did not know what to do with him.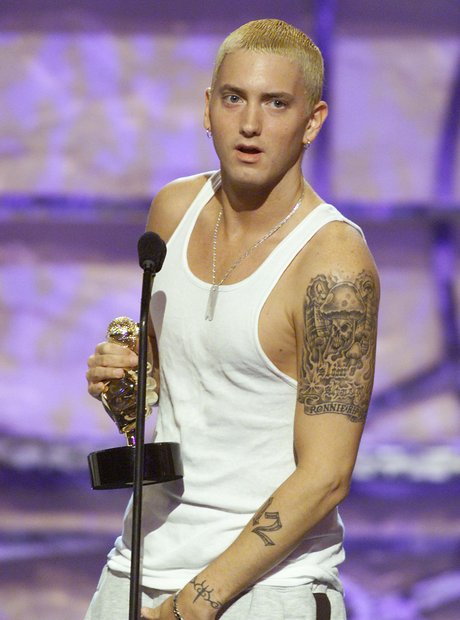 It really is wild to think about the juxtaposition between the reactions of Eminem's initial fans vs. his initial detractors. On the "we really fucking love this" side, The Slim Shady LP has made all sorts of "Greatest…Album" lists compiled by reputable sources, won the man himself two Grammys ("Best Rap Album" and "Best Rap Solo Performance" for the first single, "My Name Is"), and has to this day sold over 18 million copies worldwide. On the other hand, well, as I've mentioned a couple of times there was some…dissent. There was the famous lawsuit brought by his mother, Debbie, who was made out to be a neglectful pill popper on that (and a few other) Eminem record(s). There was Billboard Editor Timothy White, who one could see as the forefather of the interweb's White Knights and SJWs, claiming that Slim Shady himself was "making money by exploiting the world's misery". That is not only a hysterically worded thing to say, but, if you think about, yes Timothy something everyone in the entertainment, liquor, and recreational drug business does. We have holes in our lives and souls; these people fill them. Lastly, and I can't say for sure when young Marshall Bruce Mathers III pushed her over the edge, Tipper Gore got herself infamously involved in the battle against Eminem. Gore, the wife of Ex-Vice President and internet creator Al Gore and famed proponent of not having fun, basically lambasted Shady as the devil and wanted him either silenced or executed. Not really sure which.
Basically we loved it, they hated it. Eminem himself famously could not have given a flying fuck either way, with both middle fingers extended high in the air at all times. It was chaos in the streets and it was amazing.
As for the music, it's important to start by noting this is some of the best production work Dr. Dre has ever done, which is obviously saying something. Eminem came from the freestyle rap and rap battle worlds. He also has famously, both a lightning-speed flow and kind of herky jerky cadence. That can't be an easy basis to make beats for. But Dre did. He architected track after track, providing a smooth infrastructure around which Eminem could weave his tails of debauchery and horror. He combined a never before seen gift of wordplay with the aforementioned lewd, lascivious, and downright disturbing subject matter to create visuals in our heads of what it was like to grow up and be Slim Shady, at least through his eyes. Most famously, we got the first introduction to his second-to-none ability to rhyme scheme, which is to say, rhyme words that don't rhyme at all. He literally makes the syllables that form the English language his bitch. In the Slim Shady LP, Eminem basically starts out with a brief bio on himself, including some hard choices he was currently having to make ("My brain's dead weight/I'm tryin' to get my head straight/But I can't figure out which Spice Girl I want to impregnate"). In "Role Model" he assumed he was a hero to all ("I got genitals warts and it burns when I pee/Don't you wanna grow up to be just like me?") In "Guilty Conscience," his duet with Dre, he plays the devil on three different characters shoulders while they decide whether or not to make a terrible choice. Dre plays the angel begging the characters not to. Eminem wins 2/3.
I think at this point one could argue the follow up, The Marshall Mathers LP, is his better known and more acclaimed work. There wouldn't be too much argument here. But this, The Slim Shady LP, was the first time we heard this stuff. The intensity. The anger. The frustration. The constant threat of a legit break from reality. The angst of a broke, white trash kid with way too much talent and a fist full of drugs. It welcomed us into a world we've now been visiting for two whole decades. A world Eminem created to release both his music and emotions to the world. To "make it" in the industry….Right?
Or maybe he just doesn't give a fuck.