AP – The rules have changed since Lee Ann Walker lasted played competitive golf. She found out the hard way.
Walker shot rounds of 85 and 74 at the Senior LPGA Championship at French Lick Resort in Indiana. That was before she realized players no longer can putt when their caddies have been standing directly behind them.
She had to add 42 penalty shots to her first round, turning that into a 127, and 16 more penalty shots for the second round, turning that into a 90…
She played the first round with Jackie Gallagher-Smith and Cathy Johnson-Forbes and said neither noticed her mistake. The second round, she played with Laura Baugh and Laura Shanahan Rowe. They did.
How nice of the Lauras. To point out Walker's mistake "on 14 or 15," as Walker recalled. At least it wasn't a phone-a-friend calling in a rules violation from home. But still, enforcing a rule like this, in this manner, would make even Al Riveron blush. Worse, a rule like this probably would have prevented Happy Gilmore from winning the Waterbury Open, making "the tour," and winning that Gold Jacket.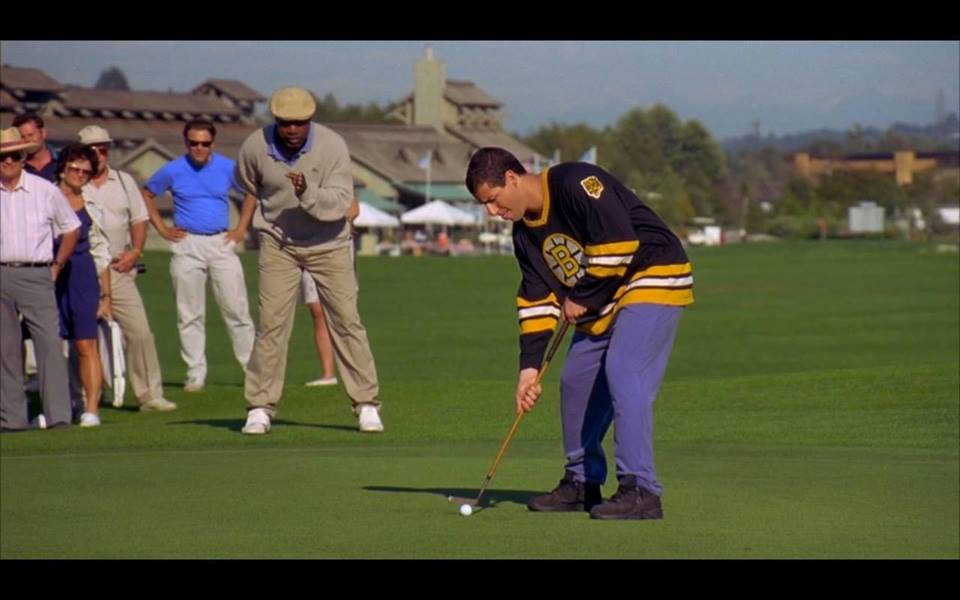 At least Walker took the news better than I would have. [Her 127 score on round one still probably would have beaten me, too.] My clubs would have been at the bottom of the pond before I got back to my car. Maybe that's why I don't own clubs currently.
I've been unofficially retired from amateur golf for five years. I'm on strictly driving range and bachelor party circuits these days. Stories like this don't really make me eager to go grab some clubs and drop $80, just to have some jackwagon course ranger constantly berate me and tell me I'm playing too slow.
The only desire I have to ever play golf again is if I'm on The Price is Right. I'm terrible at golf but would bet my mortgage I could make a Hole in One (or two).