It certainly feels like strange days in Foxobro. Playing in front of empty seats at Gillette Stadium, and in mostly empty stadiums on the road, the Patriots have stumbled out of the gate. At 2-3, they find themselves with a losing record after five games for the first time since 2002. Even more alarming, they are currently 11th in the AFC. 11th! It will take a lot of work, and maybe even some luck, for the Patriots to extend their NFL record of consecutive playoff appearances to 12 this season. Still, I'm not counting them out yet.
It's not unusual for the Patriots to get out to slow starts. The 2001 team was 3-4 on Halloween and the 2003 team started out 2-2 before finding it's groove and winning 15 straight en route to a Super Bowl championship. More recently, the 2014 team fell to
2-2 after getting shellacked in Kansas City. We all know how that season ended up.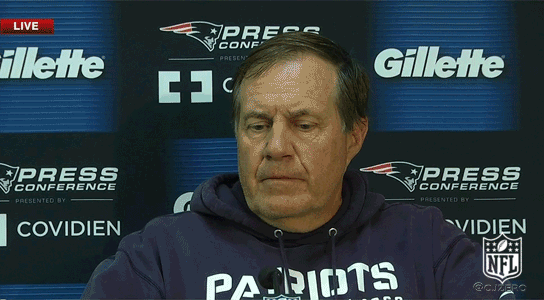 The 2018 team stumbled to a 1-2 start after back-to-back losses at Jacksonville and Detroit.
It's well established that this team treats September like an extension of the preseason as it tries to get all of its pieces to fit together, and hopefully not peak too early. Why then would 2020 be any different? With a new quarterback and no preseason at all in 2020, on top of COVID-19 to deal with, it shouldn't be surprising at all if it takes a few extra weeks for Bill and Josh and the gang to figure things out this season. But I'm still confident that they will.
Don't forget that the Patriots have only played one divisional game so far this year. That means they have five AFC East games left. That includes two games against the Jets and two games against the first-place Bills who have recently fallen back to earth. That gives the Patriots a lot of control over their own destiny over the next 11 weeks.
Keep in mind seven teams from each conference will make the playoffs this year. That alone gives the Patriots a better chance to get back to the playoffs. Should they right the ship and find themselves playing in January again, they'll have a better chance to make some noise this year than they did last year.
With seven teams making the playoffs, only the #1 seed will get a bye. Assuming the Patriots make the playoffs but are not the #1 seed, if they win wild card weekend they may not have to play team coming off a bye week in the divisional round. Only the lowest remaining team after wild card weekend will have to play a team coming off a bye. That's huge for a lower seeded team.
Even without the #1 seed, the Patriots still could get a bye week before the playoffs. With many teams' regular season bye weeks now in the rearview mirror, it likely won't take many more COVID reschedulings to necessitate a Week 18. That could turn out to be a bye week for the Patriots. But even if the Patriots are one of the teams that has to play in a Week 18, it would at least get them one more weekend off along the way before the playoffs.
Aside from the scheduling and timing of potential playoff games for the Patriots, the location and atmosphere of games could also prove to be an important factor. If they are not in a position to host playoff games, at worst they're on the road in a partially-filled stadium. That's not the same challenge as heading into packed houses in Kansas City, Pittsburgh or Denver. However, there's also the possibility that all playoff games could be a neutral sites.
Until the baseball players agreed to play the MLB playoffs at bubble sites, the idea of NFL playoff games at bubble sites would have seemed unthinkable. But if the league sees more COVID-19 cases over the next 11 weeks, and not fewer cases, what's to stop them from trying to host the playoffs in bubbles? It's easy to see the AFC playoffs being held in Dallas and the NFC playoffs being held in Houston. The league could play one game a day at each site, Saturday, Sunday and Monday for wild card weekend. Think of the ratings! The Patriots would have much better chances in a partially-filled neutral site stadium than in a true road game.
There's still a lot of football to be played and who knows what the next shoe to drop will be. That being said, the Patriots are still in this thing. They've got a coach chasing the all-time wins record and a quarterback still out to prove himself and get back on the quarterback A-list. Not a bad duo to have leading the charge.
All I'm saying is, don't count them out yet.