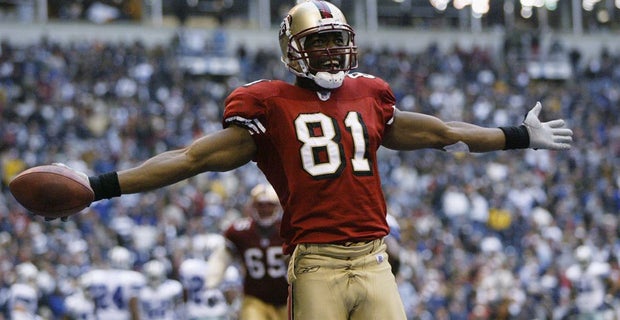 Fresh off a night on which he was FINALLY inducted into the NFL Hall of Fame, Terrell Owens was out to prove that he can still play.
Much of the talk surrounding T.O. in recent weeks has focused on his decision to skip out on attending the actual H.O.F. induction ceremony in Canton due to what he believes to be a "flawed system." (Seriously, it took THREE tries for the committee to vote him in??!! That's absolutely shameful, and I don't necessarily blame the guy for feeling the way he does.)
But regardless of whether or not you agree with his decision, there should be no questions about his resolve.
ESPN reported early this morning that T.O. worked out for the Canadian Football League's Saskatchewan Roughriders on Sunday in Tennessee. And while some may initially laugh at the 44-year-old's seemingly foolish hubris – after all, he hasn't played a full season of football since 2010 – the guy is still in phenomenal shape and has been seriously talking about a comeback for quite some time now.
Just check out these tweets, which he posted back in May:
Still got it? …Never lost it 🤷🏾‍♂️ #OpportunityNeeded #OutworkYesterday @nfl pic.twitter.com/wq6NZBqhNs

— Terrell Owens (@terrellowens) May 15, 2018
Let's get it! #StayReady @nfl pic.twitter.com/SS1serTjzg

— Terrell Owens (@terrellowens) May 15, 2018
The man is a freakin' Adonis, and apparently still has the jets, too:
As much of a meathead as he could be at times, Owens is an absolute NFL legend and one of the very best receivers to ever play the game:
1,078 career receptions (8th all-time)
153 career receiving touchdowns (3rd all-time)
15,934 career receiving yards (2nd all-time)
Though Larry Fitzgerald is likely to surpass Owens on the all-time receiving yardage list this season (he's only 389 yards away at the moment), those are some pretty astounding numbers that most guys at his position will never even come close to sniffing in their lifetime. And, while it was indeed eight years ago, T.O. finished his last season in Cincinnati with nine touchdowns and fell just 17 yards shy of compiling his 10th 1,000-plus-yard season.
(I realize he attempted to come back in 2012 with the Seahawks, and let's just say it didn't go so well. However, as he only played in a few preseason games that summer and was cut before the start of the regular season, I'm going to go off of what he did when it last mattered.)
Above all, if anyone has the stones to actually come back in his mid-40s after a six-year absence from professional football, it would be Terrell Owens. This is someone who, for better or worse, has never once given a flying shit what ANYONE thought about him or the things he does. And as much as he may have rubbed people the wrong way over his very enigmatic 15-year NFL career, the guy's got the heart of lion, and I truly believe he is committed to the cause.
Will anything actually come out of this, or is this simply a PR stunt? Only time will tell.
Does The 300s have a great track record so far with predicting success in the Canadian Football League? Not so much. (Sorry to both Red and Johnny Manziel for that one. But hey, it was only one game, right??!!)
All I know is that I am rooting like hell for Owens, and here's to hoping the Roughriders decide to take a chance on a living legend.