So that was an ugly one last week. Not to take anything away from the Lions, but I can't remember the last time I've seen a Brady-led, Belichick-coached team play that poorly. Mental mistakes. Missed throws. No pass-rush. A sieve of a defensive front that allowed Detroit to record its first 100-yard-rusher in a game for the first time in FIVE years. Also, the Pats scored their lowest point total (10) in over two seasons.
WOOF.
Fortunately, the Pats get to face a familiar foe this weekend – albeit an undefeated one – as the 3-0 Miami Dolphins are set to come to Foxborough this weekend. As always, here's a look at where, when, and how to watch the game along with the latest lines:
Location: Gillette Stadium (Foxborough, MA)
Kickoff: Sunday, Sept. 30, 1 p.m. ET
TV: CBS (Check local listings)
Odds (via Odds Shark): Patriots: -6.5 (spread)/Patriots: -280 (moneyline)/48 (total)
After missing all of 2017 and the very end of 2016 due to injury, Dolphins quarterback Ryan Tannehill has come back this year GUNS BLAZING. Sure, he's only played the Titans, Jets, and Raiders so far, but he's completed 73 percent of his passes for almost 700 yards and seven touchdowns. He's also only thrown two picks and has a ridiculous 121.8 QB rating. Oh, and he led the Dolphins to 8 of their 10 wins before going down in 2016, a season in which they made the playoffs. I don't know when and where the whole "Tannehill sucks" rhetoric started, but it's entirely inaccurate.
Now, if you wanted to say Tannehill sucks whenever he has to play at Gillette, I actually can't argue with ya there. In five games on the road in New England, Tannehill is winless and the Dolphins have only once been able to score over 20 points.
But it's been two years since Tannehill last laced 'em up in Foxborough, and things are simply way different on so many levels. Firstly, the Dolphins have been incredibly efficient on offense this season, and that might have to do with no longer relying solely upon Jarvis Landry. Now, before I go any further, I mean no disrespect toward Landry, the game's best slot receiver and a perennial 100-catch guy.
But letting Landry go has forced Tannehill to look toward spreading the ball around much more, and now the Dolphins feature a solid corps of Kenny Stills, Albert Wilson, Jakeem Grant, Devante Parker, and, as much as it KILLS me to see, Danny Amendola. Due to the less predictable offense the team is running under Adam Gase, Tannehill has yet to throw 30 passes in a game so far in 2018, making the most of each of his opportunities. No Dolphins receiver is averaging more than five targets per game, so the Pats defense will need make sure they have eyes all over the field on Sunday.
The running game has been a bit lackluster. Many expected second-year back Kenyan Drake to run away with the job after a breakout rookie campaign, but for some reason Gase is sticking with a timeshare between Drake and a 35-year-old Frank Gore – who, save for a great Week 1 performance, has averaged just under 2.5 yards a carry over the last two games. Drake has the ability to hurt anyone, but until they figure things out in the backfield I'm not all too worried about the Fins ground attack.
The poor running game and quick-strike offense has killed the Dolphins in terms of time of possession, which could soon really start to wear on the team's defense. Alas, the D has still looked pretty decent this year, playing to the tune of a very Belichick-ian "bend don't break" philosophy, as pointed out by Joe Schad of the Palm Beach Post:
The Dolphins defense is currently 21st in the NFL in yards allowed, but sixth in points allowed. That's a crazy discrepancy, even with the small sample size of three games. Miami is tied for second in the NFL with a +4 turnover margin. And the Dolphins are third in the NFL in red zone defense.
Cornerback Xavien Howard, who had two interceptions against the Raiders last week, has been a revelation in 2018, and Chris Hogan will once again likely have a tough matchup. At least Brady can take solace in the fact the Dolphins have just six sacks on the year and rank second to last in the league with 12 QB hits.
Storylines
(Will Josh Gordon Actually Play?): Good Lord, I hope so. In typical Patriots fashion, we have yet to receive even the slightest bit of information regarding Gordon's Week 4 status, so I'm not even going to venture a guess on this one.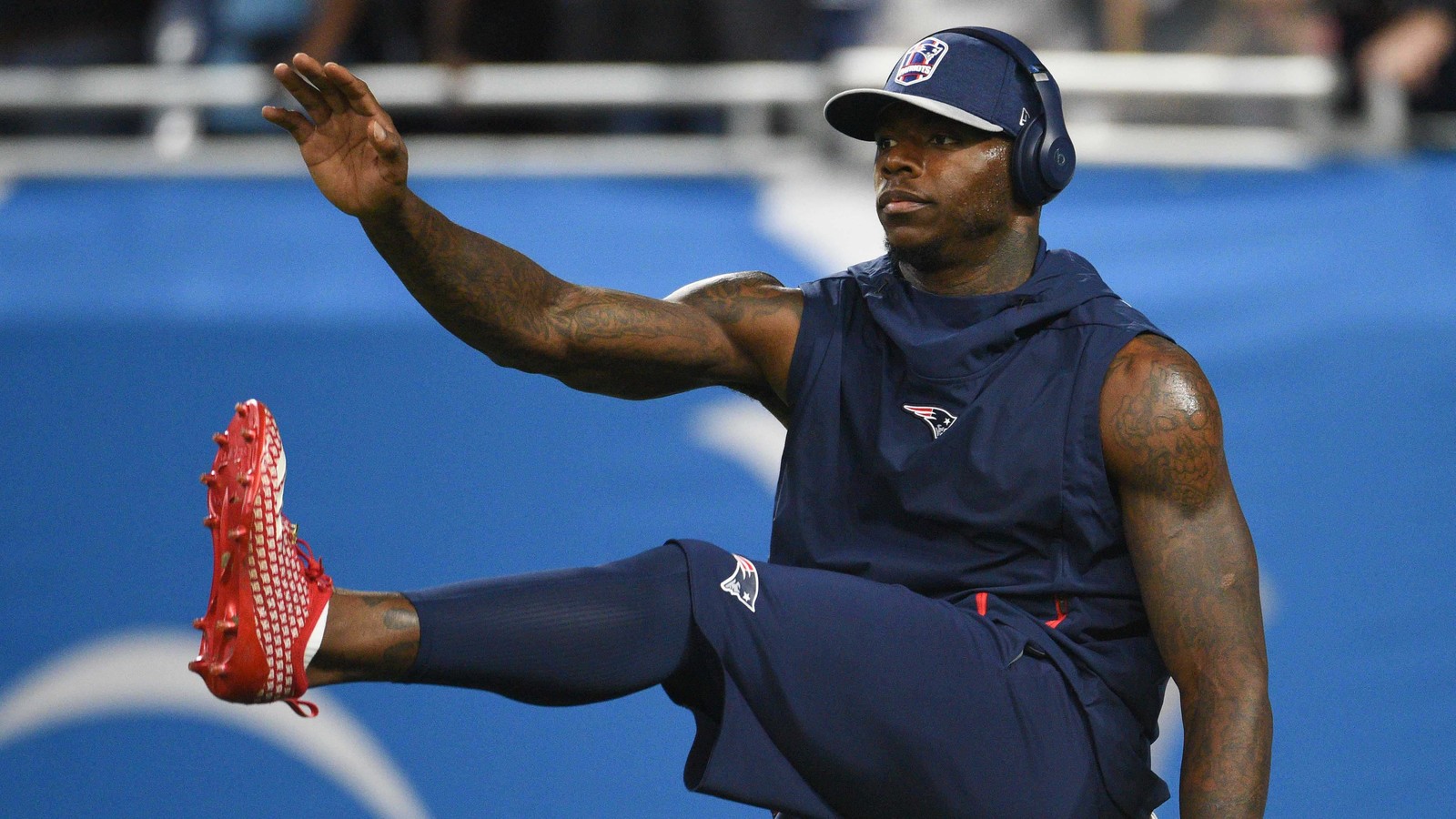 Here's all we have to go off so far (h/t 985thesportshub.com):
"We'll just take it day-by-day and see how it goes," Belichick remarked. "There are a number of factors involved here. When he feels like he's ready and we feel like he's ready and there's sufficient opportunity to back that up then we'll see about making him active."
Thanks, Bill! Always keeping us on our toes. Looks like we may not get an answer on this one until right before kickoff on Sunday.
(Sooo…Yeah, I Guess Sony IS the Guy Now): With Rex Burkhead seemingly done for the year, the Patriots have pretty much no choice but to rely upon Sony Michel to carry the load for the foreseeable future. Yes, James White will see quite a bit of burn as well, but he's not a chain-moving, 15-plus-carry-a-game guy. Michel is going to be force-fed the rock, as evidenced by his 24 carries and five targets over the last two games. While he's only averaged 3.5 yards per tote so far, I'm remaining hopeful. While I have been critical of the team placing so much faith in a guy with such an extensive injury history, I've never questioned his talent. I'm excited to see what the kid can do. He just better be ready to roll from here on out.
(The Linebackers Are Looking a Little Rough): The Pats are one of six teams allowing over 400 yards of total offense per game this season, and they are one of only two allowing over 140 yards on the ground. Now they will be without standout rookie Ja'Whuan Bentley – Pro Football Focus's fifth-highest-rated linebacker through the season's first three weeks (h/t Patriots Wire) – for a while, if not the whole season. Dont'a Hightower is still sharp as a tack and one of the best defensive signal-callers in the league, but he's looked painfully slow at times this year. And after allowing the Lions to rush for over 150 yards as a team last week, maybe this is Drake's opportunity to prove himself once and for all. (I know I said earlier that I'm not too worried about the Dolphins rushing attack, but I was basing that solely off of who they've played so far this year.) The middle of the defense could potentially be gashed in this one, unless somebody else decides to step up.
Prediction 
Sorry to say it, Pats Nation, but this could end up being another shocker. As they say, there's a first time for everything, and Tannehill and Miami's extremely fluid offense are in a prime position to flip the script. I do think that Brady & Co. will play much better on offense this time around, especially if Gordon plays and Michel gets it going. But I'm unsure if the defense is prepared enough to shut down Tannehill like in years past. While Belichick will be DAMNED if he lets Amendola show him up, Miami's plethora of other weapons on offense will be too much for the Pats to keep up with. Brady will keep it close, but in the end the Dolphins will come out on top, 21-17, giving them a puke-worthy three-game lead over the Pats in the AFC East.