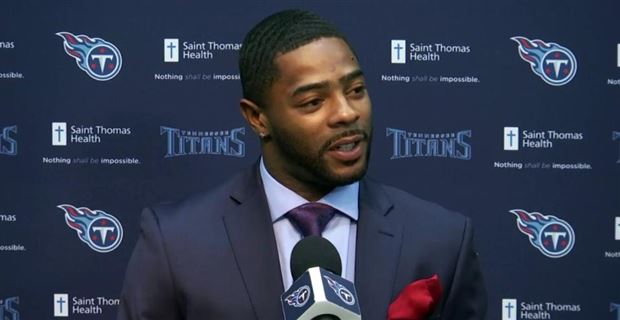 After last week's win over the Packers, I think it's safe to say the team is on a bit of a roll.
This week's matchup with the Titans also marks the first of only three non-divisional games remaining on the schedule for the Pats this season. The other four consist of matchups against the Bills at home, the Dolphins in Miami, and the Jets TWICE.
Locking up to a top-two seed in the AFC looks like a foregone conclusion at this point, but this week's opponent, the Tennessee Titans, definitely aren't a pushover and shouldn't be taken lightly, especially coming off a nice win in Dallas on Monday night.
As always, here's a quick look at where, when, and how to watch the game along with the latest lines:
Location: Nissan Stadium (Nashville, TN)
Kickoff: Sunday, Nov. 11, 1 p.m. ET
TV: CBS
Odds (via Odds Shark): Patriots: -6.5 (spread) / Patriots: -270 (moneyline) / 46.5 (total)
It's actually been tough to gauge exactly who the Titans are this season. Not only is their record dead even at 4-4, but they've also been quite streaky: lost to Miami in the season-opener; three-straight wins; three-straight losses; bye week; and, most recently, a 14-point win against the Cowboys.
After a rough, injury-plagued start to the season, Titans fourth-year quarterback Marcus Mariota has really started hit his stride the past two games. He looked dialed in on Monday night, completing 72 percent of his passes and posting two scores against a very good Dallas defense. His 272 total yards may not jump off the page, but 32 of those came on the ground, proving once again that he can get it done with both his arms and his legs.
Mariota first made a name for himself as an exciting dual-threat stud at Oregon before being drafted No. 2 overall by the Titans in the 2015 NFL Draft. After two solid seasons to start off his NFL career – including a 3,775-total-yard, 26-TD season in Year 2 – Mariota regressed significantly in his third year last season. Even though the Titans made the playoffs in 2017, Mariota's QB rating plummeted from 95.6 to 79.3, and he threw more picks than touchdowns.
Most people forget, though, that he was still trying to recover from a broken leg, which he suffered in December 2016; for a guy who's used to relying on his wheels to hit peak performance, it makes sense that he hit a bit of a rough patch last year. But again, outside of some pretty horrid early-season performances this year, Mariota looks like he's finally getting back on track. And after seeing Bears quarterback Mitch Trubisky run all over the Pats two weeks ago, Mariota can do some damage against this defense if he hits the second level.
Old friend Dion Lewis has also been playing much better for the Titans as of late. After signing with Tennessee this offseason – fresh off an 1,110-yard season with the Pats – he averaged just 3.4 yards per touch through the first six games of 2018. Then he exploded for 155 yards against the Chargers in London two weeks ago, followed up by a 122-yard performance this past Monday night. Derrick Henry was supposed to form a nice 1-2 punch with Lewis in the Titans' backfield this season, but he has been a complete bust. This is Dion Lewis's show.
Still, as well as those two have played the past two weeks, the Titans offense stinks. At the moment, their offense ranks only ahead of the Bills and Cardinals, and they've yet to break 30 points on the year. Even worse, they've failed to score at least 14 points three times this season. While Corey Davis has all-world-level talent as a receiver, he hasn't been able to put it all together and have the type of impact the Titans were expecting from their former top-10 pick. There really just isn't a lot to talk about in terms of the Titans passing attack.
On the flip side, Tennessee's defense is elite. They are currently ranked fifth overall, and they are No. 1 in terms of points per game, allowing just 17.6 per contest on the year. They are especially stout against the run, as pointed out by FantasyPro's Mike Tagliere in his primer this week:
They've allowed a mediocre 4.03 yards per carry, but have allowed just two rushing touchdowns and no receiving touchdowns to running backs…There hasn't been a running back who's totaled more than 85 rushing yards against them and there hasn't been a running back who's totaled more than 51 yards through the air against them.
Therefore, both James White and Sony Michel, if he comes back this week, will have their work cut out for them on Sunday. Even after scoring 30-plus points in five of their last six contests, expect the Pats offense to cool down a bit in the Volunteer State. (Although there is one particular guy – with whom you should all be quite familiar – that has been a gigantic piece of swiss cheese for the Titans this season. More on him in a second.)
Storylines
(Belichick to Face One of His All-Time Greats): As we often see at least one or twice a year, Belichick will be squaring off against one of his former protégés on the other sideline. This time around, though, it's a bit different, as former Patriots standout linebacker Mike Vrabel is now the man running the show in Tennessee. Vrabel is one of my all-time favorite Pats players. He was a key piece of each of the first three Super Bowl-winning teams, spending eight memorable seasons in a Pats uniform. He was always such a commanding presence and helped keep the rest of the team in line, so it's no surprise he's shot up the coaching ranks so quickly. It's always fun to watch the student try and take on the master – usually, though, a part of me doesn't want to actually root for the student.
(Both Teams are Quite Well-Behaved): While their effectiveness and talent-level are eons apart, the Pats and Titans offenses are the two least penalized in the league. In fact, the Titans are the only team in the league that has yet to commit at least 40 penalties on the season. This shouldn't be all that surprising considering the coaches running both squads, but it's tough to get either side to beat themselves.
(Malcolm Butler Has Been a Complete Sieve): Look, I'm still not over him sitting out the entire Super Bowl against the Eagles – seriously, there will NEVER be a reason good enough – but there's no denying that Malcolm Butler has been downright awful this season. Per Rotoworld's Rich Hribar, Butler has given up over 600 receiving yards and seven scores in coverage this season, which are both a league high. I'll always appreciate what you did for us, Malcom, but oh how the mighty have fallen. Maybe the "revenge game" narrative will give him a spark this week, or maybe he really has just become that bad.
(Will We Get Sony Back?): Even after Cordarrelle Patterson's solid running performance on Sunday night, the Pats need Sony Michel back to bolster the team's backfield. While I would rather he just sit out through next week's bye, he's apparently expected to play on Sunday, per Schefty:
After missing the past two games with a knee injury, Patriots' RB Sony Michel is likely to return Sunday vs. Titans, per source. Just needs a good week of practice with no setbacks, but on track.

— Adam Schefter (@AdamSchefter) November 6, 2018
Stay tuned.
Prediction
Even though the Titans have been solid on defense, I think the Pats end up scoring a bit more than people expect this week. Bill is going to pick on Malcolm Butler at any chance he gets, to the point where he and Josh will scheme it just so Brady has to go right at him. They did the very same against Logan Ryan – another current Tennessee corner and former Patriot – in the playoffs last year, and Bill's just petty enough to do it again. Mariota benefits from a little home-cooking and does OK, but still only manages one score through the air. Dion gets a little revenge as well, but in the end the Pats pull it out 24-17.