The 300s Dream Team already hit you with a Pats/Chargers preview podcast yesterday, but ya boy Mattes is here with a little bit of a deeper dive into what to expect on Sunday.
It seems like Pats Nation is banking on the fact that this game is in Foxborough, a place where the Pats are undefeated in their last nine playoff contests, winning each of those games by an average of over two touchdowns (15.8 points to be exact). In fact, it's been over half a decade since they've lost at Gillette in January, as the team hasn't been defeated in a playoff matchup at home since 2012 against Baltimore.
There's also the fact that Philip Rivers has beaten the Patriots just once in his career. The 37-year-old Chargers signal-caller also owns an overall record of 5-5 in postseason play, with an 11-to-9 TD-to-INT ratio. So, he's pretty much been just as good as he has been bad when playing after the regular season ends.
But anyone who's taking this matchup lightly is foolish. I'm not saying the Chargers will win, but I am saying they probably have the best chance of doing so of any home playoff opponent that Brady's ever faced in his career (or at least over the past few postseasons). The Chargers feature the league's 11th-ranked offense and the ninth-ranked defense, possessing the ability to hurt you in many different ways. I've said it a few times already that this might be the most talented roster, pound for pound, in the AFC right now – yes, even more talented than Kansas City.
On offense, it all starts with Rivers, who truly may be the best quarterback to never win a Super Bowl. While a great argument can be made that such an honor should instead go to Dan Marino, Rivers is top-eight all-time in both passing yards and touchdowns, and he will likely surpass Marino in both categories as long as he plays for at least another 2-3 years. He also chucked it for over 4,300 yards and 32 scores this season. His postseason track record may be pretty average, but his career clock is ticking, and he could come out guns blazing on Sunday.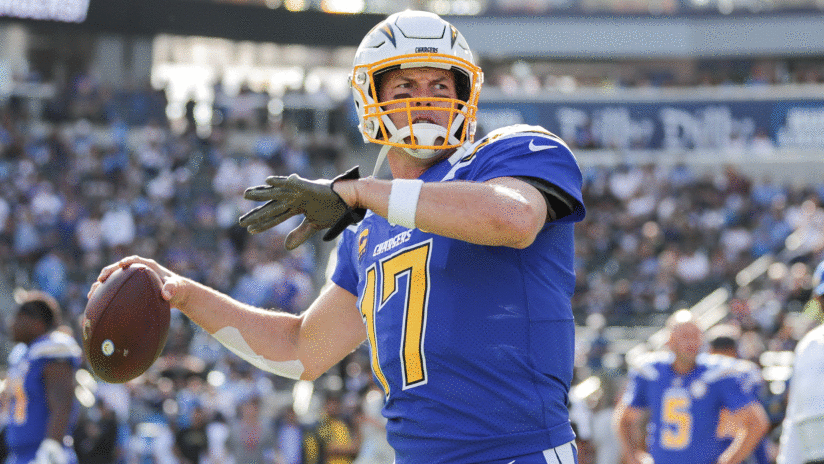 His No. 1 receiver, Keenan Allen, finished the year with 97 catches and almost 1,200 yards. He'll prove to be a tough matchup, even for an All-Pro like Stephon Gilmore. (Although Allen might actually see more coverage from Jason McCourty due to the fact he plays over 50 percent of the time in the slot.) Guys like Mike Williams (10 TDs in 2018) and Tyrell Williams are a nice pairing behind him, and the Chargers are bringing back tight end Hunter Henry this week as well. Though Henry hasn't played since last December due to an ACL tear, he was a second-round pick in 2016 and did have 12 touchdowns in his first 29 career games; he gives Rivers just one more weapon in the arsenal for Sunday, especially down in the red zone.
The team's stable of backs may be even more impressive. Melvin Gordon was a top-three running back over the first half of this season, before being slowed by injuries toward the end of the year. As a result, the Chargers were forced to work with backups like Austin Ekeler and Justin Jackson much more than expected. But they never skipped a beat, as all three backs have averaged over 4.1 yards per carry this season, with each also flashing as a receiver, posting over nine yards per catch. (Actually, both Gordon and Ekeler averaged over 5.0 yards per carry this year.) All three will be used against the Pats on Sunday, making it impossible for Bill to zero in on eliminating the opponent's top weapon, like he usually does.
On defense, L.A. is completely stacked, with two First-Team All-Pros in the secondary and two ferocious pass-rushers up front. While they may be a bit weak at linebacker, the Chargers are absolutely loaded in both the front and back ends of the D, finishing ninth against both the pass AND the run in 2018. They're also particularly good against tight ends and the short passing game – literally the Patriots offense in a nutshell.
So how do the Pats match up with L.A.? What can our boys do to counteract the Chargers' fire power? Here's my rundown of what to watch for on Sunday.
(All About the Secondaries): Both the Chargers and the Pats feature one of the league's top defensive secondaries, with three combined First-Team All-Pro players across both rosters. (Cornerback Stephon Gilmore for the Patriots; safety Derwin James and cornerback Desmond King for the Chargers. AND let's not forget about Casey Hayward, who was a Second-Team All-Pro at corner for the Chargers last year. I told you, these guys are loaaadeddd.) Even outside of them, both teams have plenty of other Pro-Bowl-worthy talent at both the safety and cornerback positions as well. In fact, the Chargers are so loaded back there that they used at least seven d-backs on 58-of-59 defensive plays last week against the Ravens. And they did so with tremendous success, holding Lamar Jackson to less than 30 yards passing through the first three quarters. But again, the Pats have also been a stalwart against the pass; since the bye week, the Pats have allowed a paltry 206.6 yards through the air in those six games. They've also held guys like Aaron Rodgers and Ben Roethlisberger to 250 passing yards or less when facing off against them this year, ending any argument that "we just haven't played good quarterbacks lately." Both teams will absolutely live and die by their secondaries on Sunday.
(Sony Could Be the X-Factor): As I said above, according to the numbers, the Chargers have been equally as good against the run as they have against the pass this year. But there's no doubt that, much like the Pats, they are severely lacking over the middle of the defense. Especially after their second-leading tackler, Jatavis Brown, was placed on I.R. this week, Sony Michel could do some damage on Sunday if he reaches the second level. Of course, James, the Chargers' leading tackler, will be back there waiting as well, along with S/CB/LB hybrid Adrian Phillips, who had the third-most takedowns on the team. Michel will also need to get past the Chargers' fearsome front four, which is no easy task either. But if the Pats can rely on the rookie to help grind out the clock, keeping the ball out of Rivers's and his talented supporting cast's hands as much as possible, the team could be OK on Sunday.
(Big Game for Brown and the Boys Up Front): According to NFL Next Gen Stats, the Patriots had the third-best pass-block win rate of all of this year's playoff squads. We've mentioned before that the O-line has been a major strength for the team this year, with pretty much everyone playing well at all five spots. The Chargers also totaled just 38 sacks on the year as a team, good for just 19th in the league. But you cannot forget about Joey Bosa and Melvin Ingram, who have combined for 54 sacks over the past three seasons – and let's not forget that Bosa missed half of this year due to injury. Ingram also had seven tackles and two sacks just last week, giving him plenty of momentum heading into this weekend. With Trent Brown set to become a free agent at the end of the season, he could literally make or break his next contract depending on well he protects Brady's backside in this one.
Just a few more quick notes:
As mentioned above, the Chargers defense has absolutely dominated tight ends this season, finishing No. 1 overall in DVOA against the position. Brady should be able to spread the ball around well enough to combat L.A.'s strength against the short passing game overall, but don't expect a big game from an already-ailing Rob Gronkowski on Sunday – like maybe at all.
After missing the season finale, Cordarrelle Patterson is back. Devin McCourty and Deatrich Wise are also expected to be OK after injury scares two weeks ago. Besides some lingering ailments throughout the roster, the Pats are expected to play with a full squad on Sunday.
In the playoffs, experience matters, and Sunday will mark Bill Belichick's 40th career playoff game as a coach; Anthony Lynn is heading into his second. It will mark the biggest discrepancy in playoff games (40-2) and playoff wins (28-1) in NFL history, according to Elias (h/t ESPN Boston).
Prediction
This is going to be a battle, and that 15.8-point average margin of victory in recent home playoff games is going to go down a bit. Not only that, but with both defenses being so good, this should be a lower-scoring game. (Don't take the over!!!) With the Chargers being much more loaded on offense, though, they'll be up by a score at halftime, before the Pats tighten up in the second half. Then, it'll be a fight to the finish line, with the Pats punching in a late score, barely giving them the edge. In what will be the Pats' most difficult divisional round test in years, they'll scratch and claw their way to a 21-20 victory.