No, but really: What the hell is going on with this Celtics team?
For team that was supposed to dominate the East this season, it's really disappointing to see them sitting fifth in the conference at 26-18, a measly eight games above .500 and behind teams like Indiana and Philly.
I know just 10 days ago I said this team was doing just fine and that soon they'd hit their stride. And they did indeed beat the best team in the conference just two nights ago. But that win was coming off a 2-3 stretch – during which they lost to Miami, Brooklyn, and freakin' Orlando – and after multiple instances of bitch-assness from a few players throughout the roster.
First, there was Marcus Morris shoving a completely unengaged Jaylen Brown against Miami on January 10:
Jaylen Brown and Marcus Morris had to get separated during a timeout…

(via ahubbtho/IG) pic.twitter.com/1EyBZyzvUn

— Bleacher Report (@BleacherReport) January 11, 2019
Then, Kyrie Irving threw a hissy fit on the court after Jayson Tatum's missed last-second shot attempt just two days later in Orlando, which ultimately led him to call everyone out after the game. To be honest, I'm not even mad about the postgame comments; a leader should step up and call out the young guys when they're slacking, and I applaud him for doing so. I also think Jaylen Brown acted like a whiny child when he said Kyrie shouldn't have been "pointing fingers" because it will make some on the team "go into their shells." (Kyrie actually ended up apologizing for what he said, but Brown's response was soft.)
BUT NOW, we get the news – compliments of Kyrie himself – that after those postgame comments he made down in Orlando, he called "old friend" LeBron James (catching the sarcasm there?) to apologize to him for being so difficult and not recognizing what a leader he was during their time together in Cleveland. Kyrie said he, too, used to do the very same things that he's currently accusing the Celtics' younger guys of doing, and that LeBron was simply trying to teach everyone how to win, much like he's trying to do in Boston right now.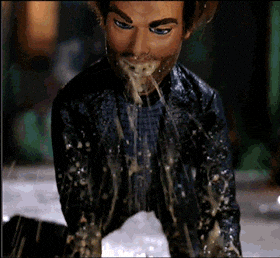 Wow, Kyrie.
No, seriously, though. A leader doesn't to try and grandstand his entire team by calling the self-proclaimed "G.O.A.T." to talk about what could have been and then go out of his way to tell the whole world about it. You're acting like a manipulative girlfriend who brings up her ex whenever she's mad at you. What you did was a complete bitch-ass move, Kyrie. It was a textbook LOSER move all around, and I wouldn't blame the rest of the guys in the locker room for shutting you out for a bit because of it. That was just plain WEAK.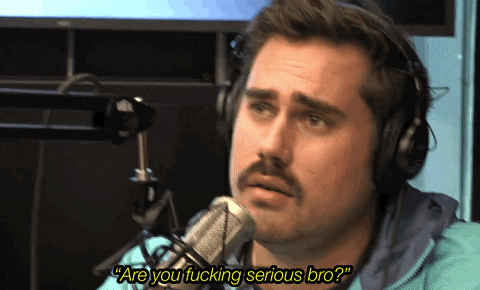 But how about what's been happening on the court? Well, they did just beat the No. 1 seed Toronto Raptors on Wednesday night – yes, led by Kyrie's 27 points – but that was after losing to Brooklyn on Monday night, in a game during which they were down by 30 at certain points.
So, while there's no doubt the roster is still loaded with talent, the inconsistency is what is killing the team right now. This team has flipped flopped between piping hot and ice cold throughout the entire season. Need proof? Here's a snapshot of how things have gone since Thanksgiving:
Won eight straight
Lost three in a row
3-2 stretch
Won four straight
Lost three in a row
Win
And what's even crazier is that, according to the numbers, the team should be one of the top squads in the entire league right now, let alone the Eastern Conference. They're 11th in terms of offensive rating (112.2) and they're fifth in defensive rating (106.1). Though they're technically 14th in points per game (111.8), the stats say they should be able to make up for it with their play on the other side of the ball.
But again, inconsistency has been the killer. While Kyrie – as pissed as I am at him right now – has remained hot for pretty much the whole year, others haven't been so reliable. For example, Al Horford, who came up huge with 24 points against Toronto on Wednesday, put up totals of 8, 10, 2, 6, and 12 in the five games prior. Gordon Hayward, who was heating up just two weeks ago, put up a total of just 17 points during the team's three-game losing streak before scoring 18 on Wednesday night at the Garden. Even Jaylen Brown, who is finally starting to pick it up, has seen his totals fluctuate wildly over the past two weeks as well.
Marcus Morris and Jayson Tatum have been pretty reliable, with each consistently contributing 15-16 points a night. But even their once vaunted group of role guys like Terry Rozier and Marcus Smart have not been able to cement their purpose in the rotation; yes, they're all still playing, but not as cohesively as hoped.
The problem is that there are just too many cooks in the kitchen right now, and it's hard for anyone to start to simmer. This has also caused some serious issues in the locker room – some of which we still might not even know about – and that old "Ubuntu" mentality, championed by Celtics teams of old, seems to be a thing of the past.
Again, as I said the other week, I do believe this team can still get hot. But we're now officially over halfway through the season, and things have actually been trending downward lately, as opposed to getting any better. Maybe Danny Ainge should think about blowing things up a bit (e.g. trading Rozier), allowing for guys to actually be a bit more selfish and solidify their respective roles a bit more. Or maybe some guys can get over themselves a bit and try to be a better teammate.
Either way, something's gotta give, for better or worse, and something needs to be done sooner rather than later.