I can tell you what I'm not drinking. Pumpkin beer. I'll leave that to all the basic bitches and whatever their male equivalent is. For me, fall is all about Oktoberfest and cocktails. I'll write about my favorite Oktoberfest beers in a later post. Right now I'm drinking a classic cocktail with a seasonal twist.
THE MASSHOLE MULE
As I've said in the past, I'm no mixologist, so this drink may very well be called something else. I came up with the name because I'm using ingredient made in Massachusetts, specifically Triple Eight Cranberry Vodka from Nantucket and a Mass-made hard cider, in this Moscow Mule spinoff. As many people know, a typical Moscow Mule is 3 parts ginger beer to one part vodka with a splash of lime juice and a lime wedge served in a copper mug. My recipe tinkers with that due to the addition of hard cider, but it's not all that different in the end.
THE RECIPE
2oz dry cider
2oz ginger beer
1 1/2oz cranberry vodka
2 dashes of cinnamon
lime wedge

Pour vodka over ice into a copper mug. Add ginger beer and dry cider, then stir in cinnamon. Serve with a stirring rod and garnish with a lime wedge.
THE INGREDIENTS
As I mentioned before, I'm using Triple Eight Cranberry Vodka. For those not familiar with Triple Eight, they are the distillery side of the Cisco Brewing operation located on Nantucket. They make really delicious flavored vodkas that typically come in under $30 a bottle. I would absolutely recommend this over any name brand flavored product.
For cider, you can go with any dry cider, but a few I recommend from Massachusetts are Lookout Farm Farmhouse Original and Bantam Wunderkind. Downeast Original would work too, but it will be a little sweeter.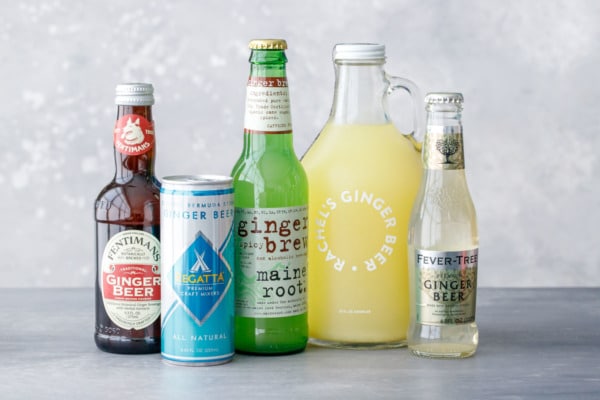 The last ingredient, the ginger beer, is the least important in my opinion. That being said, a high quality ginger beer can be the difference between a good drink and a great drink. I prefer Barritt's to Gosling's, and a spicier option, such as Maine Root or Fever Tree, to either of those.
That's it for this edition of WDDN, I hope you enjoy the drink! Check back in next time to see which Oktoberfest beers top my list!