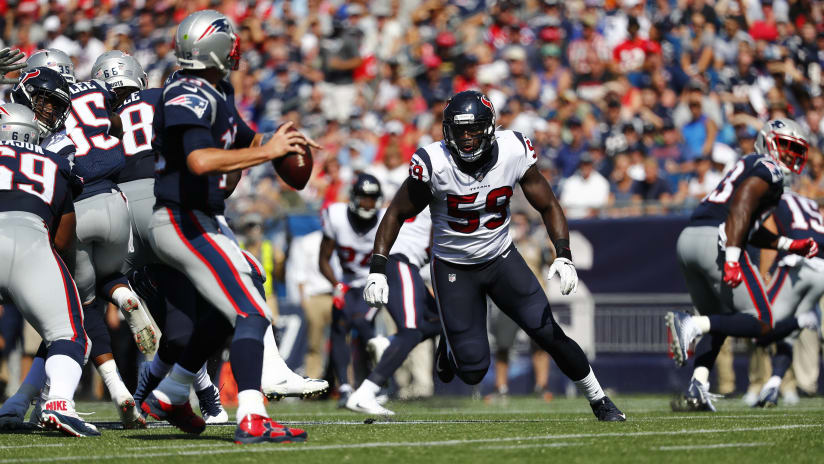 As I sit here and write this, the 2018 NFL season has already officially begun, with the Eagles beating the Falcons in last night's season opener, 18-12. We are now just about 48 hours away from REAL and MEANINGFUL Patriots action.
The team is set to square off against the Houston Texans at Gillette Stadium on Sunday. Before we get into a game preview, here's a couple quick hits on when and where to watch the game along with a few of the latest lines:
Kickoff: Sunday, Sept. 9, 1 p.m. ET
TV: CBS (Check local listings)
Odds (via Odds Shark): Patriots: -6.5 (spread)/Patriots: -230 (moneyline)/50.5 (over/under)
This will be a matchup between what should be two of the AFC's premier squads in 2018. Although the Texans missed out on the playoffs last year, that's most likely due to the fact they lost then-super-rookie quarterback Deshaun Watson to an ACL tear just before Week 9, when the team was 3-4. Sure, they technically had a losing record with him under center before the injury, but of those seven games four were against playoff teams, and another was a mere three-point loss against a solid Seahawks team in which Watson threw for over 400 yards and four touchdowns to go along with another 67 yards on the ground. Watson also had 21 total touchdowns on the season at the time he went down.
I do think that Watson will regress a bit this year, as his touchdown rate was just silly last season, but he's still probably the most talented quarterback the Texans have ever had in their 15-year history. Let's not forget Watson also totaled 342 yards and two touchdowns against the Pats when the teams squared off last season, in what was just his third-ever NFL game. He, DeAndre Hopkins, and Lamar Miller form a pretty solid trio on the offensive side of things.
But enough about Watson. The Texans will also have two of their top defenders back this season, J.J. Watt and Whitney Mercilus, both of whom played just five games each for the team last year. Not only have the two combined for ONE HUNDRED AND FREAKIN' EIGHT sacks since Mercilus's rookie year in 2012, but Houston's defense – which was a top-three unit in both 2015 and 2016 – fell all the way to 20th without them last year. I expect Houston's D to be solid once again in 2018 if both guys can stay on the field. This offseason, the team also added safety Tyrann Mathieu – aka the Honey Badger and one of my absolute favorite players in the league – and he is expected to inject some much-needed skill and energy into the team's defensive backfield.
OK. OK. But what about the Pats?
Well, this game is going to be all about timing routes and quick passes. (Hello, James White!) Brady is going to need to get the ball out quickly, and as long as he doesn't get knocked around by Houston's nasty pass-rush he could carve it up between the 20s. Aaron Colvin and a 34-year-old Johnathan Joseph are also a pretty lackluster pair of corners, so TB12 shouldn't have too much trouble moving the ball as long as he stays standing.
The Texans actually were a top-15 team against the run last season, so I wouldn't expect a huge game on the ground for the Pats offense. White and Rex Burkhead will likely be sent out of the backfield quite often, especially with the team being expected to take it slow with the latter. Jeremy Hill could actually get a little bit more burn than expected as well, as the team will still need someone to move the chains between the tackles and on the goal line.
As far as the defense goes, the Pats (hopefully) improved pass-rush should be able to do some serious work against the Texans HORRENDOUS offensive line, which was ranked dead-last by Pro Football Focus this offseason. It may be tough to corral Watson, though, which will probably force him out of the pocket and on the run quite a bit. Therefore, Dont'a Hightower and the rest of the linebacking corps will need to be on high alert throughout this one.
Storylines to Keep an Eye On
(Welcome to New England, Trent Brown): Brady's new blindside protector certainly has his work cut out for him. As mentioned above, the Texans feature one of the league's most ferocious pass-rushing units, and this will be Brown's first chance to prove himself in a Pats uniform. He's received very positive reviews throughout most of the offseason, but let's just hope Watt & Co. don't give him fits in his home debut.
(James White is the X-Factor): With the team's thin receiving corps and the need for Brady to get the ball out quickly in this one, I expect White to be HUGE for the Pats on Sunday. Not only can Brady check down to him in a hurry, but White's underrated ability to carry the rock can also help keep the Texans D guessing, especially when the team runs out the Pony offense, which I also expect to see a lot of.
(Who Will Step Up Behind Hogan?): Barring another freak injury or Johnathan Joseph traveling back in time to his Pro Bowl days, Chris Hogan will be the team's leading receiver in Week 1. But after that, who is going to step up? Will it be Phillip Dorsett, who looked solid in the team's dress rehearsal? Will it be Cordarrelle Patterson, who has the skills to be a unique offensive weapon? Will it be Riley McCarron, a dark horse who was just promoted from the practice squad on Thursday? It's anyone's guess at this point.
Prediction
Save for some minor worry regarding Brady's protection in this one, I still think the Pats are far and away the better overall team. Belichick won't let Watson light him up two years in a row. Plus, Trey Flowers, Deatrich Wise, Adrian Clayborn, and the rest of the boys up front on defense should be able to consistently get in his face and throw him off his game. There are also still enough weapons on the Pats offense for them to move the ball and score some points against Houston's D, as long as their fearsome crew up front is kept at bay. The Pats take this one 24-14.