Well, Sunday was a great day in Boston. For the first time in a long time, the Celtics, Patriots, AND Red Sox were all victorious on the same day.
Sure, the Pats victory was the only one that mattered, as the Celtics are only playing preseason ball at the moment and the Sox already locked up their spot in the postseason what feels like eons ago. But October is officially here, which is the one month per year we get all four of our beloved squads playing meaningful action at the same time. The Pats, Celts, and Bruins are either already in or about to be in the fresh, young stages of the season, and the Sox are getting set for another World Series run.
What a time to be alive in the Bean!
This piece is going to focus on the Green, though, after a 1-1 series split with the Charlotte Hornets this past weekend. Rather than break down each game, let's instead take a look at a few key takeaways:
Mixed Results for Hayward
If you were to look solely at Gordon Hayward's stat line from the weekend, you might think things didn't really go so hot for him: 3-of-14 from the field overall; 1-of-7 from deep; seven rebounds; and four assists.
Sure, those shooting numbers are pretty rough, but he did have seven rebounds and four assists in 44 total minutes of action. Also, it was the first two games the guy has played in since October 17 of last year; he's still shaking off the rust.
Hayward even admitted as much after Friday night's contest (h/t ESPN Boston):
"The one cut to the rim, I usually would have dunked that one. Tried to go up off my leg and just didn't have it, I guess," Hayward said. "So, that stuff I think will come back, that little explosion. I'm certain of that. … It was just the speed of the game, just the crowd, that's something I need to get used to again."
Now, I'm not going to lie, the whole "tried to go up off my leg and just didn't have it" part of that quote didn't leave me with the warm and fuzzies, but I'm hoping it really is just a muscle memory sort of thing as opposed to any residual physical limitation.
Regardless of how mediocre his play might have been this weekend, all that matters is Hayward got through the first two games without issue. That's all we can ask for at this point.
Morris Looks Ready to Go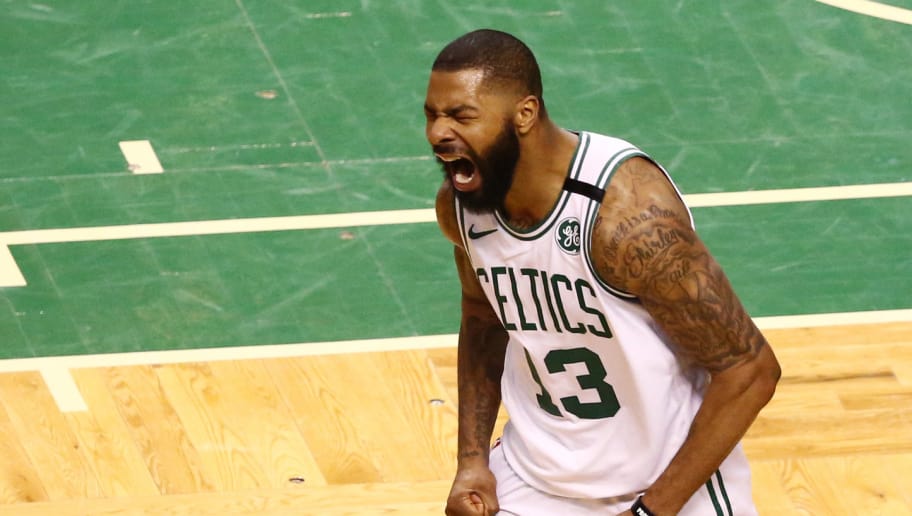 After serving as one of the very best bench pieces in the entire NBA last season, Marcus Morris looks rearing to go in 2018. Morris finished the weekend with 24 total points in 35 minutes of action on 9-of-21 shooting from the floor overall, including 46 percent from three-point land.
However, the most impressive numbers associated with Morris were actually his plus-6 and plus-11 finishes, respectively. Morris's toughness and relentless energy permeate throughout the rest of his teammates each time he is on the floor, on BOTH ends, and efficiency numbers like this only further prove that point.
Easily talented enough to be a starter on most teams throughout the Association, Morris is content to serve as one the Green's most important reserves on a loaded roster. After coming up with the nickname "BWA" (Bench With Attitude) for he and the rest of the team's reserves this season, Morris doubled down on the moniker with a clear message for the rest of the league just a few days ago:
Marcus Morris lays out the BWA's mission statement for the 2018-19 season:

"When our second unit comes in, if their second unit's not ready, you're getting your ass busted, you know what I'm saying? That's what it's going to be."

— Chris Forsberg (@ChrisForsberg_) September 26, 2018
We may still be two weeks away from regular-season action, but Morris is already chomping at the bit. LFG!
Bob Gets Some Praise
I'm proud of you, Bob!
Not only did Robert Williams finish the weekend with eight points and three boards in 20 minutes on the floor, but it was his key block that sealed the victory over the Hornets on Sunday night.
The "block" was actually an even more impressive tip on a three-point attempt from Charlotte's Malik Monk, which, were it to go in, would have given the Hornets a two-point lead with about 15-ish seconds left to play. However, Williams was able to use his huge wingspan and quickness to get out to the perimeter just in time, forcing Monk's shot completely off course:
ROBERT WILLIAMS WITH THE GAME-SEALING BLOCK and assist pic.twitter.com/PuSUwqY649

— Taylor Snow (@taylorcsnow) October 1, 2018
But, as pointed out by fellow teammate Kyrie Irving, it was Williams's actions after the block that truly stood out to him: After Monk's missed shot attempt landed in the hands of Celtics rookie Brad Wanamaker, Williams was passed the ball and had an easy lane toward the basket. However, rather than try and continue to show off after an impressive swat, he simply passed the ball to Guerschon Yabusele, who laid in the dagger for the win. He chose the easy basket over the flashy play, which is a decision that flies right in the face of those who continue to worry about his "maturity" issues.
Said Irving after the game (h/t Celtics.com):
"Those little things right there show you how well he fits in the mold of being a Boston Celtic," said Kyrie Irving, who scored a team-high 20 points. "He makes the huge play and then passes to Guersch when he could've easily wind-milled or done something crazy for the crowd. But he passes to Guersch, we seal the game, and I know that felt good for him and for the rest of us."
Nice work, kid! Keep it up!
Besides those three takeaways, it was a solid overall weekend for the C's. While they didn't come without each of their own struggles at times, each and every one of the starters also looked terrific at points this weekend. There truly wasn't one thing that stood out to me as a concern going forward. Yes, it's only October 1, and yes, we're only through two preseason games. But it was a good start for the Green this weekend.
The next preseason game for the C's is on Tuesday night at home against the now-LeBron-less Cleveland Cavaliers.