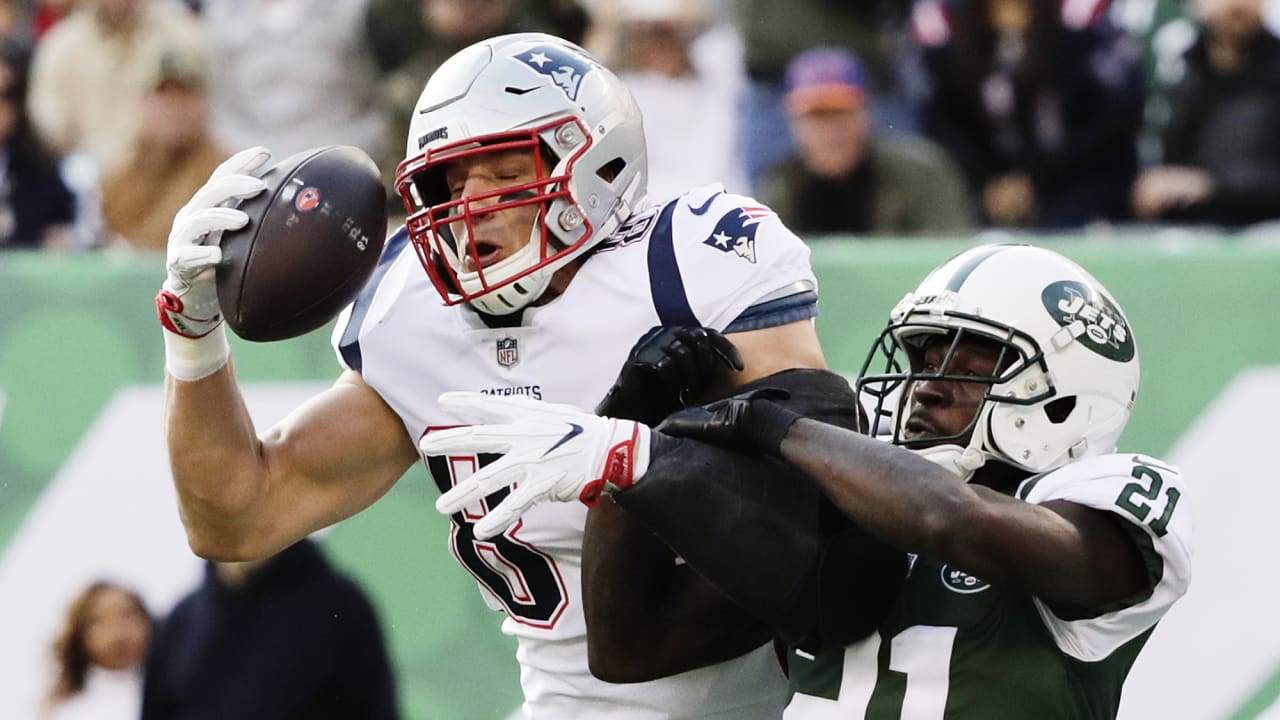 The thing about New York sports fans is that they REALLY show up for their own. They think their players, coaches, and, for whatever reason, sports media personalities are Gods amongst men. Like there is a CONVENTION for Mike Francesa fans. To repeat, a sports radio show host has his own convention. It is kind of bizarre and really not relatable for those of us outside of the tri-state area.
Which is why it really says something that even New Yorkers hate Manish Mehta. He is a troll through and through that is not as much of a troll sports writer as he is a troll writer who decided to apply his trolliness to sports. Gross.
And he recently came for Gronk. Said he was washed and done and sad and depressed. Well, unfortunately for M-Squared Gronk came back Sunday and the Pats beat the Jets. There was a Gronk-spike and all.
Gronks have 87 lives, motherfucker.
Red
This is it. It took 12 weeks, but I am breaking up with Matt Stafford. After burying any chance I had before the turkey was even on the table with 7 points on Thursday, I am breaking it off. This is likely the last shot I had at the playoffs as even an average performance from Stafford gives me the win. I may just start an empty QB slot moving forward in a silent protest.
Joey B
I'm officially out of it so this shouldn't matter. It shouldn't matter that I lost a BARN BURNER with a final score of 60-51 (nope, no one forgot to set their line-ups). But I forgot to put in Gronk. Those points would have given me the win. Forgive me big man.
Papa G
It's curtains for my fantasy teams. Shout out to Fournette getting suspended too. Appreciate the self-control. We've officially moved into "who should I pick for my keepers" mode. TRASH.
Mattes
I'd like to start off this week by apologizing to one Amari Cooper. Since becoming a Cowboy, the man has averaged 17 points a game, which included a bananas 38-point showing on Turkey Day. That performance helped me beat Papa Giorgio this week, finally giving my suddenly resurgent team more than one measly win on the year and potentially playing spoiler for my fellow blogger's season. I have changed my team name to "Amari's Resurrection" in his honor. Maybe Oakland really does just suck THAT bad.
A couple "coulda, woulda, shouldas" sank my other team this week. I went for the upside with Lamar Jackson as my QB2 behind Rivers, but the extra 10 from Cousins, who was on my bench, would've given me the win. Or maybe playing Aaron Jones over Mark Ingram this week would've done it, too. I now need to win this week and have two other teams lose to get into the postseason. I'm literally hanging on by the short and curlies right now.
Big Z

With another big win in Week 12, the Z-Men have won 5 of their last 6. Fantasy football isn't that hard when you get steady quarterback play, contributions from a few wide receivers, and 43 points out of Christian McCaffrey.
A win in Week 13 will lock up a first round bye and a guaranteed crack at some prize money. LET'S GO!
-Joey B
Blogger | Crier | British Television Obsessive| Whiskey Dickist