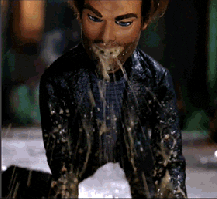 That pretty much sums it up. God, what an atrocity. I figured that after a Bucks game that we were one blown call away from winning and a disaster in Chicago we'd be able to bounce back and at least compete in Toronto, but boy was I wrong. What is it with this team and second quarters? I didn't see a single positive out of this team, and am left questioning if this team even has enough to make it through the first round of the playoffs, let alone make a deep run.
Can you imagine what that postgame locker room and subsequent flight back to Boston were like?
As for knee jerk reactions, here's what I saw. I saw a team that completely and utterly lacks the heart, focus and energy needed to compete at the highest levels. I saw players dropping easy passes, not getting back on defense, pointing fingers, yelling at each other, forgetting how to run a fast break, not knowing who to guard, and making every possible middle school mistake you can think of. It was disgusting. And don't get me wrong, I didn't expect the Celtics to win this game, but I thought they'd show up.
Brad Stevens watching the other team go on a run and wondering if he should call a timeout. Literally every Celtics fan watching opponents go on 12-0 runs while Brad wonders if he should call a timeout.
Now, I stand by everything I said about Kyrie last week. I'm sick of the drama surrounding him, not that it's all his fault. However, I don't blame him for all of our troubles in the least. The struggles this Celtics team have been going through are on everyone's shoulders, and that's reflected in the box score. Smart was -25, Morris -24, Horford -16, Brown -13, Rozier -11, Irving -10, and Tatum -8. Kyrie usually has no problem taking things into his own hands, but it seemed like he didn't even try. This may be a result of good defense from Toronto, but the killer instinct he usually has was nowhere to be found. He only had SEVEN POINTS on ten shots. How does that happen? I understand this game meant more to the psyche's of the Boston fan base than to the actual playoff picture, but still. That can't happen.
"Ohhh everybody saw. Fuck. Who cares??"

Sounds like Brad Stevens has just about had it with Tatum and this #Celtics team. #CelticsTwitter #NBA #Boston pic.twitter.com/qeeOqJW8OB

— The 300s (@The300sBoston) February 27, 2019
Danny needs to sign a big man and bring in some much needed toughness, as well as challenge these guys to earn their minutes. Brad needs to make changes to the rotation stat. Bench some people. Theis is trash and shouldn't see the court. One of the Marcus' should come off the bench. Shorten the leashes and pull anyone who isn't making shots or hustling back on defense. For the love of god, change it up. The rotations are lazy, the play calling predictable, and the defense lethargic. Now excuse me while I go finish ralphing all over my shoes.