I'm glad I stayed up to watch this one. What a game. Being down 3-1, the Thunder were desperate for a win. Dame Lillard had all the answers. After going down by double digits early, CJ McCollum picked up 3 fouls in the first 9 minutes, and it seemed like the Blazers might not be on their game to start. But Lillard stepped up and made his case for the best point guard in the league. After last night, I'd have a hard time disagreeing with him. Just looks at these shots:
Lillard dropped 50 points last night, including 34 in the first half.
Dame scored 16 in the first quarter, then added another 18 in the second. In that first half, he hit 6 threes, all of which were contested except one (which was from 30 feet out). He made off balance shots, tear drops, fadeaways, step-backs, you name it. He was on fire. The second half was no different. As soon as it started he hit another 30 foot bomb. He finished with 50 points, 10 threes, and this absolutely insane buzzer beater:
A 37 foot contested step back three?!?! Are you kidding me?!?
Paul George actually didn't play bad defense on that. He stepped up with about 4 seconds left after realizing he wasn't going to drive, and got a hand in his face. I mean, look where he's shooting from! The balls on Lillard to take a shot like that. YUGE!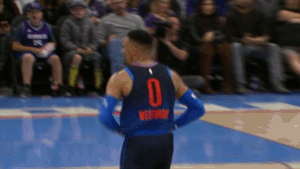 Now, I stupidly took the Thunder to go all the way in a previous blog, and I'm here to vent about my embarrassment at that pick. I said Paul George was going to be the guy to lead this team to the promised land. I love the guy, but it's hard to reach your full potential when ballhog Russ is busy sucking ass. Westbrook was absolutely atrocious last night. Probably the worst triple double I've ever seen. At first look, 29-14-11 seems pretty good. But that's it. If you watched this game, you saw a player who wouldn't pass when he needed to down the stress, who was barking at his teammates, and who took a TON of bad shots. He missed at least 3-4 layups when trying to push in transition, but instead forced himself into one-on-three "fastbreaks" where he blew the shot and then forced his team to play transition defense. He chucked a bunch of quick threes, which he has and continued to struggle with in this game. And down the stretch, he wanted to be the guy with the ball in his hand when everyone in the world knew it should be Paul George. Well, Russ missed a bunch of shots late, played garbage defense on Lillard, and will forever be known as a regular season star and playoff bust.