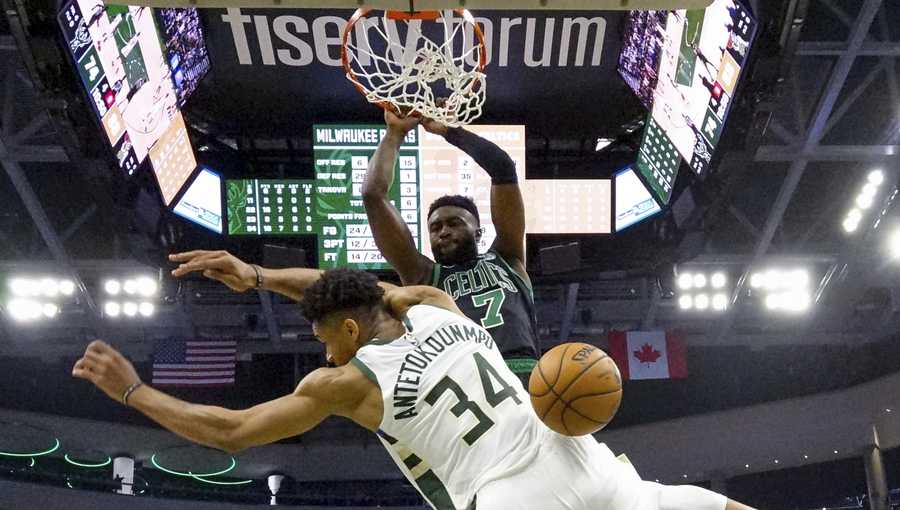 MATTES: So far, it's been a tale of two teams through two contests for the Celtics. In Game 1 on Sunday, the boys were on fire and looked prime to roll the Greek Freak and the Bucks in quick fashion. Then, on Tuesday night, they couldn't buy a bucket and lost by over 20 points.
Seriously, though, the team went from having every single starter finish with a positive +/- rating on Sunday to every single starter finish with a negative +/- rating in Game 2. Also, the team was able to somewhat contain Giannis the first time around (33% FG%, 22 PTS, 8 REB, 2 AST) before he came back with a vengeance on Tuesday (44% FG%, 29 PTS, 10 REB, 4 AST). Much of his resurgence in Game 2 also had to do with the fact he got to the line 18 times (!!), nailing 13 of those attempts. The whole "let's crowd the paint and force Giannis to run us over" did not work out so well the second time around.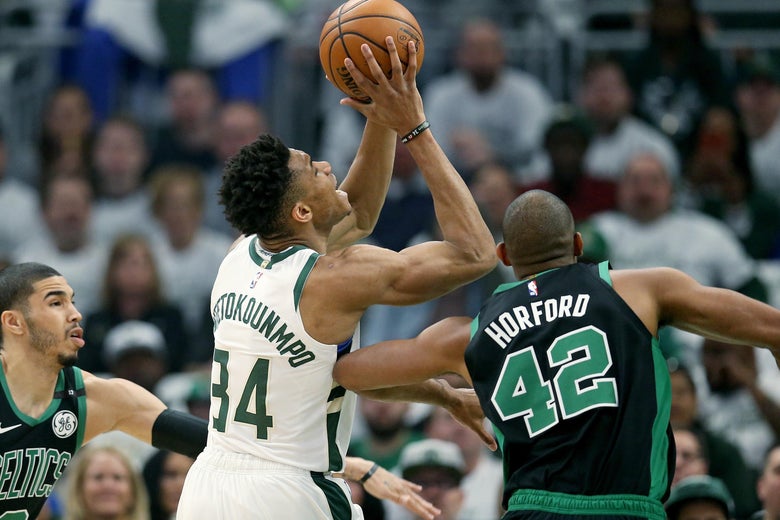 Above all, though, the Celtics themselves just couldn't buy a bucket in Game 2 either; after shooting a red-hot (and entirely unsustainable) 54% as a team this weekend, the then team put up a paltry 33% shooting effort on Tuesday night. That's just not gonna get it done.
The series now stands at 1-1, with Game 3 scheduled to tip off in Boston on Friday night. Dom, how are you feeling after the debacle in Game 2? What are your thoughts with the series heading back to the Garden?
DOM: After a 1-1 split with Milwaukee to start the series, two things come to mind. First, I feel good with where we're at. When you don't have home-court advantage, you hope to steal a win on the road and claim home-court advantage for your own, which is exactly what the Celtics did. So as far as the big picture is concerned, it was mission accomplished in the first two games.
The other thing that comes to mind is, when looking back at where most of our heads were after Game 1, Celtics fans need to check their expectations a bit and not get too overconfident. Going up 2-0 on the road against Milwaukee would've been great, but it was highly unlikely. I saw a lot on social media acting like we were gonna roll this team, but the Bucks are just too good for that to happen. Plus, we can't just forget about the way the Celtics struggled both on the road and with their consistency throughout the entire season. Yeah, we swept a depleted Pacers team that overachieved in the regular season, but the playoffs are different. Nobody expected the Pacers to actually upset the Celtics in a seven-game series (except maybe Jimmy Lips, but he's from New York). Even though that series was a great stepping stone for this team, there's still a long way to go. I honestly think this series is going seven games, and hopefully we get something more entertaining than blowouts the rest of the way.
MATTES: I completely agree with you about Celtics Nation getting a bit too confident after Game 1. (As Felger would say, all the "Green Teamers" were out in droves after that one.) Although, it is pretty amazing to see that the team already has three road wins in the postseason so far. They could only muster up ONE last year in their run to Game 7 of the Eastern Conference Finals. Even during the championship run with Pierce, Ray, and KG in 2008, the team could only get two wins on the road that entire postseason.
But, while it seems as though they actually are capable of winning away from Boston, as you said inconsistency is still rearing its ugly head. Gordon Hayward pulled a disappearing act in Game 2 after being one of the team's keys to victory in Game 1, and he actually saw more time on the floor on Tuesday night. Same with Terry Rozier. While I'll give him credit for getting to line five times in Game 2 and hitting all five attempts, his shooting percentage from the floor dropped by 20 points between the two contests so far. Horford also seemed like he didn't want to be as involved as he was on Sunday.
And where the hell is Aron Baynes??!! In 18 minutes of action so far in the series, the dude has TWO freakin' rebounds. On the flip side, 300s favorite Robert Williams had five rebounds in literally half that amount of time on Tuesday night alone. Maybe we should let the young fella try his hand at defending the Freak from here on out! No??
DOM: Time Lord!!! Love the kid, but that was all in garbage time, so I'm gonna go ahead and say leave him on the bench. It's funny, one of my keys to last series was having Baynes own the paint, which he did a good job of, I thought. I'll get into my keys for success later, but I didn't expect him to be as much of a factor due to the Bucks being better at spreading the floor. But one rebound a game? Yikes!
Going into this series, I had two keys to victory for the Celtics, both of which happened to be defense-oriented. As it turned out, the Celtics did both things well in Game 1 and then both things poorly in Game 2. Those two things are:
1. Keep Giannis out of the paint. Easier said than done, I know. In Game 1, Giannis only scored eight points in the paint, half of what he averaged against the Celtics in the regular season. On top of that, he also missed 11 shots in there, three of which were blocked by Horford. I'm OK with the "Hack-a-Greek" mentality, so long as you get your money's worth and don't give up an and-one. In Game 1, Giannis only hit 5-of-10 from the stripe. That works for me. Game 2 started OK, but the second half went the Bucks way. As you said, Mattes, Giannis hit 13-of-18 from the stripe on Tuesday night. (Which is 72%, so really nothing special. I'll take it.) But when you add 10 points in the paint, it adds up, even if it is down from his season average.
2. Limit Khris Middleton from behind the arc. Once he gets going, as we saw in Game 2, he can change the whole complexion of the game. In Game 1, he surprisingly didn't look to takeover much, even though he shot the ball well from deep. He was 5-of-12 in the game overall on Sunday, but 3-of-4 from the behind the arc. I'll settle for just four Middleton three-point attempts a game. Absolutely. But in Game 2, he found some confidence and started heaving up shots left and right, most of which went in. He caught fire in the first half, dropping 20 points on 7-of-12 shooting, including 5-of-7 from deep. He finished with 28 points and seven threes. And it wasn't just Middleton who lit it up from deep either, as the Bucks as a team hit 43% of their three-point shots. Although Middleton's the one you need to focus on, seven other players hit threes for the Bucks, too. Overall, it was just an ugly showing from the Celtics defensively.
I'm not sure if you caught this, Mattes, but after Game 1, the Bucks, led by Giannis and Coach Mike Budenholzer, claimed that they didn't need to make any adjustments. They claimed that they just have to do the same things, but better. After losing by 22 points, how preposterous of a statement is that? Also, judging by the fact that they changed their starting lineup, got Middleton more involved, hit seven more threes, and got to the line more, what do you think of the obvious adjustments that they made?
MATTES: To me, it was obvious that the Bucks came out way more aggressively in Game 2, while the Celtics did not. It's literally like the two teams pulled a Freaky Friday and switched identities between Games 1 and 2.
But you nailed it with Middleton. This is a guy whom I feel is one of the most underrated players in the game, and I've been saying this for a few years now. When he's lighting it up, the Bucks are damn near impossible to stop. Whenever he gets the ball, he puts it through the hoop, whether it's from deep (career 39% 3P%), the stripe (career 87% FT%), or pretty much anywhere else on the floor (career 45% FG%). The dude just gets it done, and I don't understand why he's not always as involved as he was on Tuesday night. If the Bucks just give him the damn ball, they're going to be tough to beat.
Eric Bledsoe is someone who we've yet to even touch upon as well, and he's another guy who doesn't always get all the credit he deserves. After scoring just six points in Game 1, he stepped up with 21 on Tuesday night, helping to form a real three-headed monster with Giannis and Middleton. AND we still haven't even seen Malcolm Brogdon yet!!! The 2017 NBA Rookie of the Year hasn't played in the past six games due to injury, and if he returns this series things will get really, really tough.
So, while everybody was flying high after the first game of the series, it seems like things are far from over. As mentioned before, Game 3 is scheduled for tomorrow night at the Garden, and the Celts need to come out with the same intensity they displayed on Sunday. Otherwise, the young Bucks could take over this series in a flash.
Stay tuned to The 300s for all your Celtics playoff coverage on the chase for No. 18!