It's National Chicken Wing Day and we're celebrating the holiday here at The 300s. If you're celebrating the holiday today, too, here are some topics of debate that may come up at your get together, and my take on each one:
Hooters vs. Buffalo Wild Wings It's Hooters and it's not even close. Buffalo Wild Wings continually promises an experience it never delivers on. When you actually want to watch a game at B-Dubs it's a madhouse. When it's busy the service is slow. When it's dead at lunch the service is slow. What keeps me coming back is a pretty good draft selection and some pretty good deals on drafts, not the wings or the service.
I don't mean to sound like an old man, but I'm at @BWWings and I hate the new menu. Not the the food on the menu. I mean the physical menu itself. Borderline unreadable in this lighting. pic.twitter.com/DfrSpjCOPU

— Big Z (@The300sBigZ) July 16, 2019
Hooters on the other hand doesn't pretend to be something it's not. Unapologetically campy,  Hooters consistently delivers great wings and ice-cold beers. Their breaded wings are the best in the business.
Bone-in vs. Boneless Unless I'm at Hooters, I'm going with boneless. If wings are the main course, sure, I'll go with bone-in. But if they're an appetizer, or if I have other plans that evening, boneless it is.  You'll never catch me eating bone-in wings at a ballpark. Bone-in wings are so messy I borderline feel like I need a shower after eating them. I don't wanna look like Costanza out there.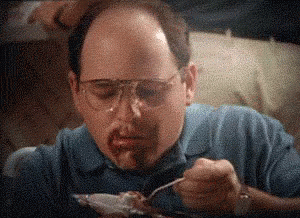 Blue Cheese vs. Ranch Gotta go with blue cheese dressing. The tangier dressing better compliments most wing flavors, and the thick and chunky variety is just more satisfying than ranch dressing. Don't get me wrong I'd eat ranch dressing on anything, but the added flavors and spices of ranch dressing don't always pair well with wing flavors.
Best Wings From a Non-Wings Establishment Boneless habanero wings at TGI Friday's. TGI Friday's has its own issues delivering on the experience it promises, but its boneless habanero wings are better than anything offered a B-Dubs.
Best Non-Buffalo Wing Sauce The Gold Fever sauce at the Ninety Nine Restaurant & Pub. The Gold Fever Wings at the Ninety Nine are right up there with the Fridays' habanero wings as some of the best at a non-wings restaurant. It's a shame that this place doesn't exist outside of New England / New York (yet). For those outside the region, think of a mustard/barbecue sauce.
Coat those bad boys in some thick blue cheese dressing and your set. Wash 'em down with some $2 Bud Selects like your Vincent Chase and it's 2009.
Yahoo! has more info on what wing deals are out there today. 
What other topics will you be debating today? Let me know on Twitter @The300sBigZ