The New York Knicks have made me smile a lot this week and that's not something I've been able to say very often in three decades of cheering for the team. They deemed this week #LinsanityWeek on social media and have been playing two games every night on MSG Network back from those magical couple of weeks in February of 2012. If you're not very familiar with the story of Jeremy Lin, the undrafted Harvard point guard who became the talk of the entire sports world, boy do I have a tale for you.
Now 50-plus days into the suspension of all the major sports leagues, it was nice to look back fondly on one of the most spontaneous and genuinely fun stretches I've had in being a sports fan. When I commiserate with fellow tortured Knicks fans, the refrain "the last time I had fun watching this team was Linsanity" is exchanged with alarming regularity for it being the year 2020. One can argue that a LARGE reason for that is the depressing fact that the Knicks have won a grand total of one playoff series since the start of the 2000-2001 season. But honestly, another reason was that 'Linsanity' was really fucking cool.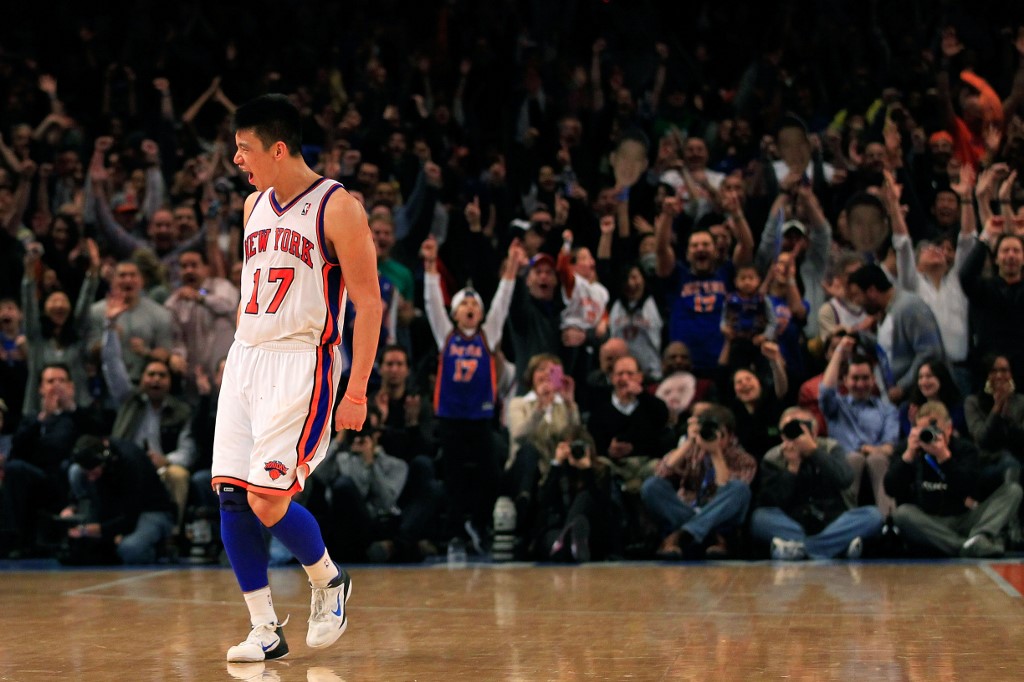 We love sports for a million reasons (and boy will I appreciate them all so much more when they finally resume!) and one of them is the classic story of the underdog athlete emerging and succeeding against all odds. In early February of 2012, it was enter, stage right for Jeremy Lin to become the next athlete to fit that classic mold. Lin was an undrafted point guard from Harvard who, in the midst of his second NBA season, had already been cut by the Warriors and Rockets before the Knicks signed him to be their fourth point guard and an insurance policy. Oh and I probably should mention Lin is the son of two Taiwanese parents and in 2010 became the first Asian-American to play in the modern NBA.
Now it's time to set the stage. Like I mentioned, the Knicks had signed Lin to be nothing more than an injury insurance policy but on February 4, 2012, they found themselves 8-15 and in the midst of having lost 11 of their previous 13 games. Their biggest problem? Led by the corpses of veterans Baron Davis and Mike Bibby the Knicks had by far the worst production at the point guard position in the league. At their current rate of losing head coach Mike D'Antoni was not long for his job, that's for sure. During a Saturday night home game against the Nets, the Knicks were once again trailing early and D'Antoni was ready to start throwing shit against the wall to try and spark the team and save his job. He brought in Lin off the bench. Now keep in mind, up until that point Lin had scored a total of 76 points in his entire NBA career. But on that night he'd go on to torch opposing point guard Deron Williams and the Nets to the tune of 25 points, 7 assists, 5 rebounds, and 2 steals in a much needed Knicks win.
Because his Knicks contract wasn't guaranteed for the entire season, Lin had not even rented a place in Manhattan but instead was sleeping on his older brother's couch on the Lower East Side. The night before his career game against the Nets he spent the night sleeping on his teammate Landry Field's tiny love-seat of a couch because his brother was having a party that night. 24 hours later Jeremy Lin would have a sold out Madison Square Garden chanting his name in the fourth quarter. Sports, man.
Lin started at point guard for the first time in his NBA career the next game and he casually dropped 28 points and 7 assists on the Utah Jazz in another Knicks win. What made that performance even more significant was that forward Amare Stoudamire missed that game and the star of the team Carmelo Anthony injured himself in the first half and would go on to miss the next seven games. So now the Knicks were without their two best players (and perennial all stars) and it did not matter one bit.
Three wins in and Jeremy Lin had quickly become the talk of New York sports and owned the back-pages of all the newspapers on a daily basis. But the upcoming fourth game of this saga would come against the vaunted LA Lakers led by none other than Kobe Bryant, who at this point was still the biggest star the NBA had to offer. The game would be at home at the Garden and would be broadcast nationally so it would be the first time that the country got their chance to see what all the hype was about. Pundits around the league acknowledged that this was a neat story but that the big stage and bright lights of this match-up with Kobe was probably the night where the clock struck midnight. When asked pregame about Lin's recent play and all the hype, Kobe scoffed at reporters explaining that he hadn't been following "the kid" at all and didn't know what they were all talking about. A career high 38 points later by Lin, resulting in a seven point loss to the Knicks (still without Carmelo and Amare), and Kobe would quickly very much learn about what those reporters were talking about.
I remember permanently having a huge smile on my face throughout that game because of how insanely fun this whole ride was and thinking of the absurdity of it all. One week prior the guy was crashing on his brother's couch and fully expecting to be cut from his third team in six weeks and now he's out-dueling one of the greatest players in NBA history. It was the definition of the cliched sports story script that Hollywood would throw out because it wasn't the least bit realistic. But even better, it was actually happening and overnight Lin and the Knicks became the lead on SportsCenter every game.
The 89 points that he had totaled over his first three professional starts was an NBA record dating back to the ABA merger ('76-'77). After the 38 point explosion against the Lakers, Lin had grown to become a nationwide and even an international star. Fans in Taiwan were packing bars at 8:00 am local time to watch each and every Knicks game. Lin donned the cover of Sports Illustrated not once but TWO weeks in a row, a feat that had very rarely ever been done before in the magazine's long history. He also quickly became a role-model and beacon of hope for young Asian-American fans across the country whose dreams of one day playing in the NBA just got a little more plausible.
On Valentine's Day Lin hit a game winning three pointer to beat the Raptors in Toronto and hand the Knicks their sixth win in a row (remember when they had lost 11 out of 13 games before he entered the lineup?). After finally losing a game, the Knicks had another big test on national TV hosting the defending champion Dallas Mavericks on a Sunday afternoon. As we had already learned, Lin relished the bright lights during this run and he did not disappoint in this game either. He finished with 28 points, a season high 14 assists, and 5 steals in a 104-97 win.
Sadly the clock did eventually strike midnight on Jeremy Lin's magical Cinderella story in 2012 when he tore his meniscus and missed the rest of the season. And looking back eight years later, the rest of Lin's NBA career didn't quite go to plan as he never fulfilled the promise and success of that 'Linsanity' stretch (although don't cry too much for him as he earned nearly $66 million over the course of his nine season NBA career). But for a three week stretch in February of 2012, Jeremy Lin was the brightest star of them all and put together a run that will make Knicks fans smile for many many years to come. Man, I miss sports!