The new league year starts in less than a month (March 13), and the Pats will have a lot of decisions to make in the coming weeks, especially considering the fact that 18 (!) guys from this year's championship squad are set to hit unrestricted free agency.
But again, before we hop into the future, I'm here to bring you Part 2 of our 2018 Patriots report card. Last week, we focused on Brady and the offense; this week, we're grading out the defense.
Overall, the Pats finished with the league's 21st-ranked defense, but they did allow the seventh-least amount of points per game. As we've seen with most Belichick defenses over the years, the boys played a lot of "bend but don't break" ball this year, giving up some yards but still finishing with the fourth-best opponent's scoring percentage, only behind Chicago, Baltimore, and Houston. They also had the fourth-best turnover percentage, hauling in 18 interceptions on the year. And they even grabbed 10 fumble recoveries, too, which was good for 12th.
The point is, the defense doesn't get enough credit for just how important they were to the team's success this season – especially in regards to the secondary, which featured First-Team All-Pro Stephon Gilmore and the dynamic McCourty twins duo.
To be honest, some guys (or groups) played much better than others, and, just like with the passing offense, the team certainly wasn't without its flaws on the defensive side of the ball either.
Let's look at the grade sheet…
Defensive Line: B
The play of the defensive line starts and ends with Trey Flowers. Both Red and I have never made any secret of our love for the do-it-all defensive end, who has been the leader of the team's front seven for the past three seasons. In fact, Flowers was so good in 2018 that Pro Football Focus ranked him at No. 21 on its list of the 101 best players from this past season. Primarily a defensive end, Flowers is actually one of the more versatile D-lineman in the league, playing almost a quarter of his snaps from the inside and wreaking havoc no matter where he lines up. It seems as though he finds his way into the backfield on almost every play, and his 78 pressures (including the postseason) were the second most in the league. His 7.5 sacks also led the team. (SPOILER ALERT: Flowers was the team's defensive MVP this season; yes, even over Gilmore.)
The team has a gigantic decision to make this offseason, as the 25-year-old is set to hit the open market. Belichick needs to open up the purse and lock this guy down for the long term, as he truly could serve as the foundation of the team's D for much of the next decade. Usually pretty frugal as a franchise, the Pats HAVE TO change course and do whatever it takes to bring this guy back. PLEASE.
Lawrence Guy was also outstanding, even though most casual fans may not know who the hell he is. That's no disrespect to the big fella, but most run-stuffing defensive tackles don't usually get the love they deserve. The Pats struggled mightily as a team against the run at points this season (which I blame mostly on the linebackers), but they still finished 11th in the league against the opposing ground attack. Guy was a huge reason why, finishing with an elite 91.1 run-stuffing grade from PFF and coming in at No. 83 on the same list of best players Flowers found himself on this year.
Malcolm Brown, another unrestricted free agent, was up and down this year. He lost more playing time than anticipated to second-year man Adam Butler. But overall, Brown was pretty consistent, or at least reliable, often taking on double teams that freed up others around him. Still, I wouldn't say he did anything particularly special, and I'm predicting the team lets him walk this spring. (Also, Butler is a very underappreciated player on this line. Unlike Brown, Butler can rush the passer from the inside and has five sacks over the past two seasons. He came on strong as a rookie UDFA last season, and he could take a big leap forward with another solid showing in 2019.)
I thought Danny Shelton and Adrian Clayborn would've played a bigger roles after the Pats started last offseason off with a bang by bringing both guys in. Both were expected to make a much bigger impact, especially Clayborn. But, for some reason, each of them struggled to earn playing time in a crowded rotation, and Shelton was even benched entirely for one stretch of the season (before coming on strong in the playoffs). Both had their (brief) moments this year, but overall they were a major disappointment.
Finally, injuries slowed the trajectory of young guys like Derek Rivers and Deatrich Wise, Jr. this year, but I'm still excited about their potential. In fact, Wise, who finished with 4.5 sacks on the year, was my pick for defensive MVP this preseason after a solid rookie year. I'm looking forward to what these two can still do next season if they start off with a good camp.
Linebackers: D+
I really don't have many great things to say about the team's linebacking corps, and I've felt this way ever since the summer.
Let me just start by saying that Dont'a Hightower is one of the most overrated Patriots players in recent memory. Yes, he's made some pretty big stops in his career in some pretty big moments, but the 28-year-old has noticeably slowed in recent years, often struggling to keep up with speedy opponents. He can still lay the wood on opposing ball-carriers, but that is only if he's able to get to them first. And forget about pass-coverage, as both he and Kyle Van Noy allowed almost 70 percent of the passes they were targeted in coverage this postseason to be completed – and this was after the Pats already allowed the 11th-most receiving yards per game to opposing running backs throughout the regular season. There were also six games in which the Pats gave up over 130 yards on the ground.
At least Van Noy makes up for his poor coverage skills by being an above-average to excellent pass-rusher at times. His 3.5 sacks may not jump off the page, but he continuously applied pressure to opposing signal-callers all year, particularly in the postseason. He and Flowers were easily the team's two best guys off the edge, and I believe Van Noy does play a pretty key role on the team's D.
Elandon Roberts – literally the only other linebacker to see significant playing time in 2018 – is entirely forgettable at this point. While once looked upon to be a potential piece for the team's future, he struggled to even stay on the field this year. There's really nothing more to say about him.
Fortunately, the Pats still have preseason standout Ja'Whuan Bentley, a promising rookie who was lost for the year due to injury in Week 3 against Detroit. I'm excited about what he can bring to the table. But again, this unit is in desperate need of an upgrade this offseason, especially in terms of guys with sideline-to-sideline ability. This should be one of the team's main areas of focus over the next few months.
Defensive Secondary: A-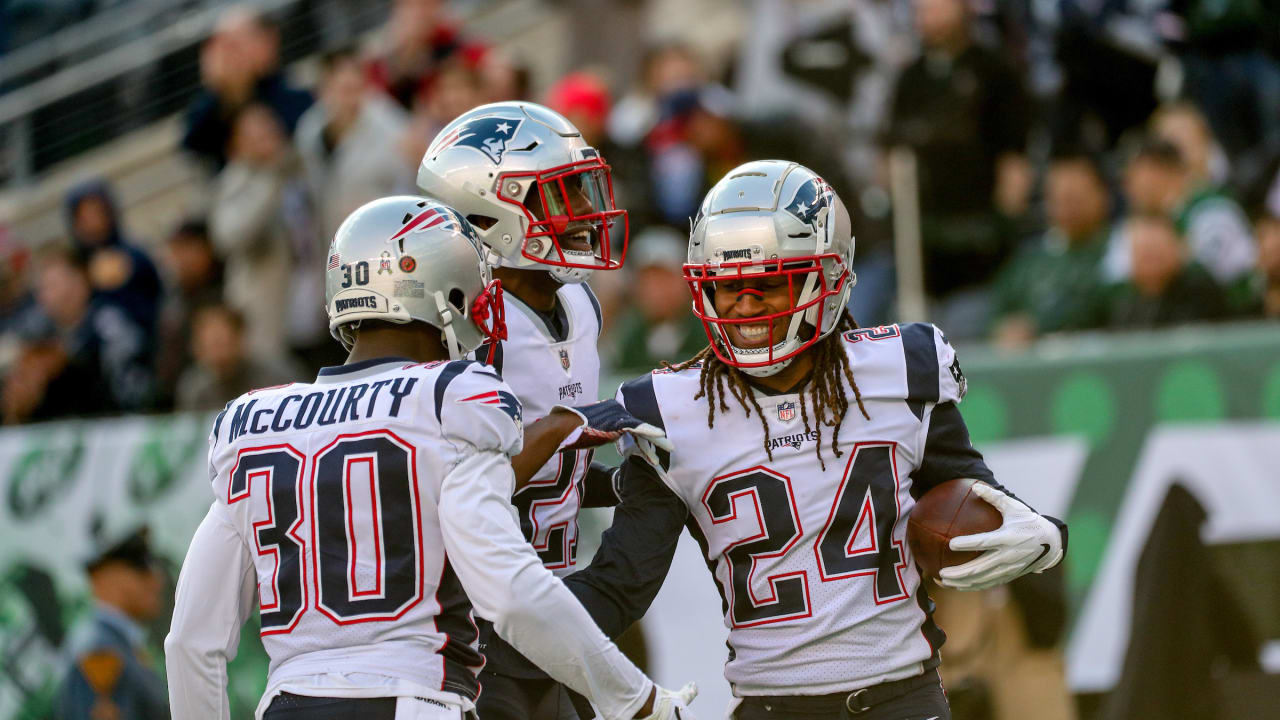 It shouldn't come as a surprise that this is the unit receiving the highest grade, as the secondary was dominant at times this season. Remember, stats can be misleading; I realize the team finished 22nd against the pass, but that only means that they gave up a lot of yards – not points. Because truthfully, Stephon Gilmore routinely eliminated the opponent's top weapon; in the 13 games he tracked receivers this year, he only allowed 42 catches on 90 targets for a measly 466 yards, per PFF. He was also selected as one of the league's top two cornerbacks this season, earning his first All-Pro honors.
But it's not all about Gilmore. As a team, the Pats finished 12th against thier opponents' No. 2 receiver and fourth against "all other" wide receivers in terms of DVOA. Safeties Devin McCourty, Patrick Chung, and Duron Harmon (who also served as a hyrbid linebacker at times) helped locked down the back end of the defense all year. They helped the team finish as the eighth-best against the tight end position as well.
Rookie J.C. Jackson was also a revelation. The undrafted free agent out of Maryland used a surprise standout preseason to springboard himself into a starting role opposite Gilmore as the season wore on. He did not come without his struggles, but his rapid ascension shows a lot of promise for him going forward.
And finally, I'd be remiss if I didn't give some special shine to Jason McCourty. The Pats went out and brought him in on a flyer this offseason, trading a low draft pick to snatch him away from the Cleveland Browns, who were likely going to cut him otherwise. While he was still a serviceable corner in 2017, he was on his second team and looking at a career crossroads before coming to New England. But in 2018? He finished with the 11th-highest coverage grade at the position, per PFF, and the seventh-best mark against the run. He also played the most snaps he's played since 2012, and he is another guy the team must make a priority to re-sign this offseason.
Much like the offensive line, you could argue that this group also deserves to be a collective MVP. They were absolutely fantastic.
(Defensive MVP): Trey Flowers – Many might want to give the nod to Gilmore here, but I've said pretty much all I needed to say about the star defensive end above. Flowers is the engine that keeps the defense running. He was an absolute stud again in 2018.
(Biggest Surprise): Jason McCourty – For a guy who many weren't even sure would make it out of training camp, he was vital to the team's final outcome this season. Perhaps revitalized playing with his twin brother, here's to hoping the double trouble continues in Foxborough moving forward.
(Biggest Disappointment): The Linebackers – I'm really hoping the team makes an investment at this position this offseason. I'm just plain sick of watching these guys out there. Plain and simple.
Be sure to stay tuned to The 300s for all your Patriots offseason talk, which should ramp up even more in the coming weeks. No rest for the weary! On to 2019!