(UPDATE: The Internet can be a funny place. While I did say "reportedly" from the get-go when first posting this story, it seems as though – as of 1:40 p.m. on Monday afternoon – nobody can say for sure whether or not the Pats actually made this offer. I was using a third-party tweet which was reporting a quote from one of the NFL's leading experts, Ian Rapoport, after he supposedly broke the news on NFL Network this morning. Apparently, though, he may have been misquoted. However, there are many sites which are still reporting this story as fact, so who knows? IF this is true, below are my two cents on the matter as well as what it could potentially mean for the Pats going forward):
I think we all owe Jon Gruden an apology.
After a nine-year absence from the NFL sidelines, he was hired last January to become the new head coach (and de facto G.M.) of the Oakland Raiders. At first, many people (myself included) scoffed at the idea. Even though he had a pretty successful 10-year run as a head coach in the late 90s/early 2000s – which included a Super Bowl victory with Tampa Bay in 2003 – most were skeptical that the 55-year-old cartoon character of an individual could be successful in today's NFL.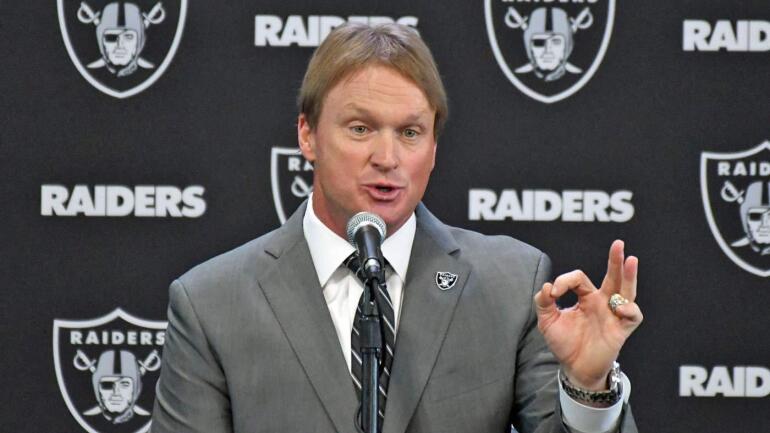 He was then eviscerated by the media for trading away one of the game's best defenders in Khalil Mack just two months later (even though he got a pretty solid return). He also "reached" on an offensive tackle with his first draft pick in May, and things weren't looking all that great for Gruden heading into last season…and honestly, they didn't get much better.
BUT, even in the midst of suffering through what was a pretty miserable season in 2018, Gruden was able to trade away a young but maddeningly inconsistent wide receiver named Amari Cooper to Dallas for a first-round pick. Again, even though he received yet another first-round pick – giving Oakland THREE of them in 2019 – people still blamed him for not using Cooper correctly and giving away one of the game's premiere young talents.
Now, he has Antonio Brown, the game's best receiver over the past half-decade. OH, and he only had to trade away a third- and fifth-round pick for him. So basically, Gruden traded away Amari Cooper, Khalil Mack, a third, and a fifth for the following:
Antonio Brown
Three first-round picks (2018 [1], 2019 [2])
A sixth-round pick in 2019
A third-round pick in 2020
That is absolutely ABSURD. There's also rumors the team is gearing up to sign Le'Veon Bell as well. Things could start to turn around for the Raiders pretty quickly.
On the flip side, the Steelers are being ripped apart for getting so little in return for a guy who has been on a truly historic run over the past six years (six-straight seasons of at least 100 catches, 1,200 yards, and nine touchdowns). To be fair, A.B. pretty much had all the leverage in deciding where he would go by making a new contract mandatory from whichever team he went to. The Bills, the team he was reportedly traded to on Friday morning but then wasn't just two hours later, weren't willing to do that; the Raiders, though, saw no issue with it. Therefore, the Steelers had to take the best offer available.
However, today we were told that there was allegedly at least one team out there who was willing to offer even more:
According to @RapSheet the #Steelers rejected a deal with the #Patriots, who offered a 2nd and 4th round pick

Instead, of course, they settled for a 3rd and 5th to send @ab84 to the #Raiders

— Sportsnaut (@Sportsnaut) March 11, 2019
IF this is actually true, then this says two things to me:
The Patriots have been so good that other teams are now willing to hurt themselves and TAKE LESS just so the Pats can't get better. (Truly unbelievable stuff.)
The Pats really are still trying to bring in a top-flight receiver, and maybe (juuuust maybe) they are getting ready to spend some capital to bring in some more talent to play with Brady – as I predicted they might do in my piece about the 2019 free-agent wide-receiver class this past Friday.
All we do know is that the offseason is starting off with a bang so far, and the Pats could be a lot more involved than most people think. Also, the Steelers are SHOOK and were just pantsed by two different star players this year.
Get your popcorn ready, folks. These could be a fun next couple of months.