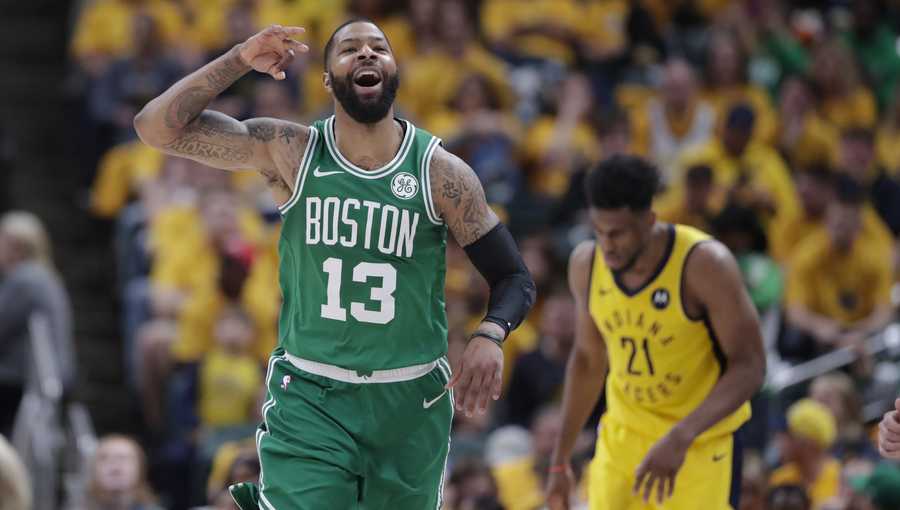 After winning just one road playoff game last season on their way to Game 7 of the Eastern Conference Finals, the Celtics have already won two this postseason after sweeping their first-round series with the Indiana Pacers on Sunday.
For all the worry and concern many had heading into the postseason, I have to say it was very refreshing to see the way this team has played over the past week. While I wouldn't say they blew doors on Indiana, there's no doubt about who was the better team. They also finally learned how to play together as a team, which is something we saw them struggle to do for most of the year.
Now the team is likely going to square off in Round 2 against the NBA's winningest team in Milwaukee, who can close out their series with Detroit on Monday night. (Even if the Bucks lose, they'll still be up 3-1, and it would take a pretty epic comeback by Blake Griffin & Co. to pull off the upset.)
But, before we get into that, Dom and I are here to bring you four of our biggest Celtics takeaways from the first round:
The Brotherhood is Back
MATTES: All year long, I've said there have been two big things missing with this team: aggressiveness and cohesiveness. While there was no doubt the Celtics have had easily one of the most talented rosters in the league, from top to bottom, the problem was they didn't know how to play together as a unit. Whether it was due to big egos, being buried on the depth chart by surrounding talent, or just poor rotation management on Brad's part, it was difficult for most guys to settle into a defined role this past season. Hence the rampant inconsistency we saw on many levels.
In the four games against the Pacers, the Celtics had four guys (Kyrie, Tatum, Horford, and Hayward) who all averaged over 30 minutes per night, and all four of which put up over 11 points per game. Jaylen Brown and Marcus Morris, two other big contributors, both personally averaged between 26-29 minutes and combined to average about 23 points per game. While you wouldn't know it from the assist totals or anything like that, just from the simple eyeball test alone it was clear to see this team was finally trying to win together. That was easily the best team basketball I've seen from this squad all year.
Brad Coached the Hell out of this Series
DOM: My first take really goes off of Mattes's point about cohesiveness. This time of year, coaches need to put egos aside and play the hot hand. And that's exactly what Brad did. Specifically, he didn't use a rotation but instead weaved Morris, Brown, and Hayward in and out so that the hottest players were on the floor for the most amount of time in the fourth quarter.
To examine this closer, here's how the approach looked game by game:
(Game 1): After a ridiculous third quarter, Brad allowed Al and Kyrie some time to rest. They each played the last five minutes or so in the fourth, while Morris, Hayward, and Tatum played just over seven, eight, and nine minutes, respectively.
(Game 2): This time, we were down 11 going into the fourth. No messing around for Brad this time. Horford and Tatum played the whole quarter, Kyrie played 7.5 minutes, Brown 9.5 minutes, and Morris only 2.5. Tatum and Kyrie combined for 19 points in the fourth and won us the game, as that's exactly how much we outscored Indy by as a team in the quarter.
(Game 3): Once again, our defense played great in the third, this time getting us up seven heading into the last quarter. Being on the road and with a chance to go up 3-0, Brad knew how important this was. He's seemingly getting a much better sense for who his closers are. Hayward, Tatum, and Al played more than 10 minutes each in the final frame, and he made sure Kyrie got a few extra minutes of rest before playing the last nine. Morris and Brown essentially split the quarter, with Brown scoring a few important buckets to keep us up.
(Game 4): The Celtics could smell blood and went into attack mode, handling everything the Pacers threw back at them. It was a close one, but we pulled it out for the sweep. Tatum again played the whole fourth, scoring nine points on 7-of-10 from the line. The Celtics shot an amazing 21 free throws as a team in this quarter, more than they usually do in an entire game. Horford was a +10 in over nine minutes of fourth-quarter action; Morris played 11 and scored eight; Hayward added nine minutes and didn't miss a shot; and Jaylen played less than one minute.
Celtics Were Able to Control the Pacers' Big Men
DOM: Before this series started, I said we needed to make sure Myles Turner and Domantas Sabonis were kept in check. Turner led the NBA in blocks this season, and allowing him and Sabonis to dominate the offensive glass and paint would pose major trouble for us. Luckily, Baynes and Horford were more than up for the task.
(Gordon Hayward not so much):
Game by game, the Pacers' bigs combined to put up 12 points and 17 boards in Game 1. Then they only put up nine and eight in Game 2 (!!), 25 and 14 in Game 3, and 27 and 15 in Game 4. Not surprisingly, their best game was the closest. Turner did have his fair share of blocks throughout the series, but not enough to discourage our guys from attacking. He's not Shaq after all.
Hangin' Tough
MATTES: No, this has nothing to do with NKOTB. Rather, I'm referring to the fact that the whole team finally played with a sense of toughness and attitude that we hadn't really seen before.
Like I said in my first takeaway, they blended so well together as a multi-faceted unit. But even more important than that, a few key guys stepped up immensely when the team needed someone to take over in the game's biggest moments. As Dom mentioned above, it might not have been the same player each game, but the quartet of Kyrie, Tatum, Hayward, and Morris acted like a flawless closer by committee for Brad in this series. (Alex Cora's gotta be pretty jealous.)
Finally, the Celtics were not out-rebounded in ANY of the four games in the series. The only game they did not out-rebound Indy was in Game 4, when both teams finished tied with 43. In total, the C's pulled down 30 more boards than the Pacers did in the series, only further demonstrating Dom's point about how surprisingly well the team played down low. (And HUGE ups to Al Horford for his work on the boards all series long.)
So now we play the waiting game, as the Celtics were the only team to sweep in the first round of the playoffs this year (so far at least). Be sure to stay tuned to The 300s for all your Celtics coverage this postseason!