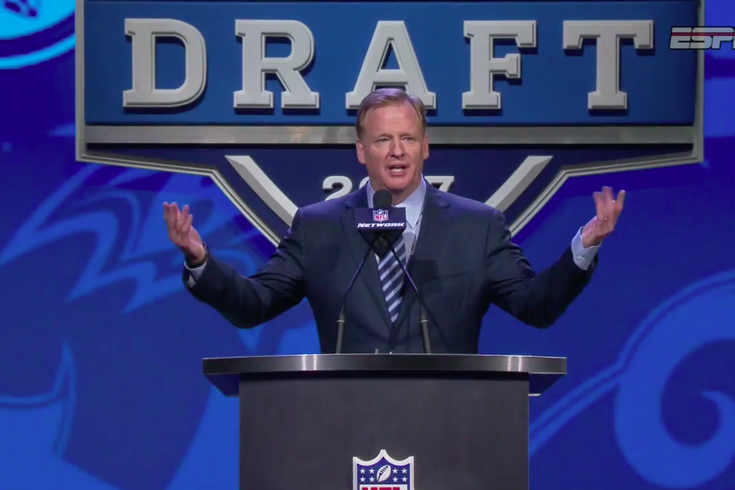 The time has arrived, folks! The annual Mattes NFL Mock Draft is here! (I know you have all been waiting with BATED breath. Right, Lippa??)
With no sports on the docket now or anytime in the foreseeable future, the prospect of the NFL draft taking place in just a few weeks is truly one of the only things keeping me going during these very dark times. For those of you whom, like myself, still can't wait till then, here's a deep – and I mean DEEP – dive into how I think the first round will shake out come Thursday, April 23.
This ain't your daddy's mock either; this big boy comes complete with five trades and a full write-up for every selection. (None of that "no mocked trades" B.S. Get outta here with that garbage.)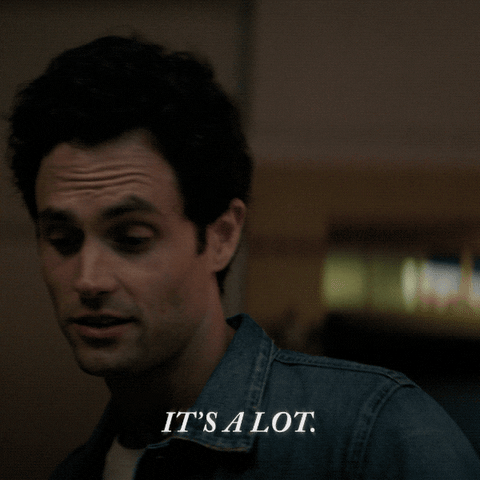 Do I have connections or sources for any of these? Nope! Nothing but hours and hours of research and faithful Twitter surfing.
For what it's worth, I hope you enjoy! And be sure to tell me how wrong I am on Facebook or in the comments section!
1. Cincinnati – Joe Burrow, QB, LSU: Really no need to overthink this one. The Bengals aren't passing on the best QB to come out of the draft since Andrew Luck, no matter what they're offered. Lock this one in. Moving on.
2. Washington – Chase Young, DE, Ohio State: Much like Burrow, Young is one of the best players to come out at his position that we've seen in years. (Besides maybe Myles Garrett.) While Washington could be tempted to trade back, it would take quite the haul to pass on a talent like Young. Especially with Ryan Kerrigan being on the wrong side of 30, Ron Rivera needs another talent to pair with Montez Sweat along the defensive front. To be honest, the idea of what those two could become together is absolutely frightening. (Also, for anyone thinking there's even a chance they take Tua here after drafting Dwayne Haskins last year AND trading for Kyle Allen, you're delusional. Please stop with that nonsense.)
3. (TRADE w/ DET) Miami – Tua Tagovailoa, QB, Alabama: Don't fall for the smokescreens!!! There have been numerous reports this week, from very credible sources, that the Fins are souring on Tua and might instead want to draft Justin Herbert. Ironically, this was right after Tua was cleared (once again) after yet another perfect medical check-up in early March, which should finally put to rest the "injury concerns" people seem to have with him. Brian Flores has also stated he wants a QB who has "it," and that screams Tua. (See: 2018 College Football Playoff National Championship). If anyone in Miami's brass honestly believes Herbert is the better prospect, they need to be fired immediately. Like right now. If the Dolphins pass on Tua, they could regret it for years.
4. (TRADE w/ NYG) Los Angeles Chargers – Justin Herbert, QB, Oregon: Now, I know it seems like I just took a shot at my guy J-Herb a moment ago, but that was more about Tua's potential for greatness as opposed to anything about the former Ducks leading man. From a physical standpoint, Herbert has the size, arm, and tools to be a very solid NFL starter, but he's far from a sure thing. Still, the Chargers pretty much placed all their eggs in the "drafting a rookie QB basket" this offseason, and that's exactly why they need to trade up to get one here. No, I don't believe either the Giants or Lions would take Herbert at No. 4 or 5, but a team like the Jags (or another sneaky darkhorse) could choose to leapfrog L.A. and completely A-bomb the Chargers' entire plan. Plus, I think Tyrod Taylor could be the perfect mentor for a guy like Herbert, who shares some similar traits. Anthony Lynn and Co. choose not to mess around and will get their guy here.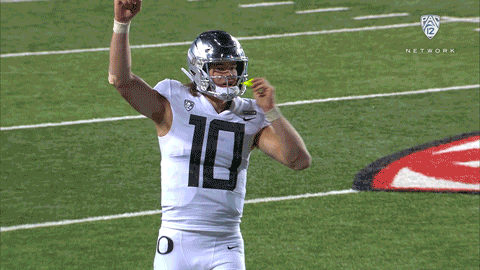 5. (TRADE w/ MIA) Detroit – Isaiah Simmons, DEF, Clemson: The Lions might win the draft simply by getting the most talented overall football player in this class, bar none, while also picking up a few more draft picks in the process. Simmons is a true rarity: a defender who can play either linebacker, corner, or safety and did so across multiple seasons at an elite level for one of the nation's top programs. A lot of people think Jeff Okudah should go here, and cornerback is a big need. But former Belichick-disciple Matt Patricia will likely value Simmons's versatility above all and jump at the chance to take a game-changing defensive weapon here.
6. (TRADE w/ LAC) New York Giants – Tristan Wirfs, OT, Iowa: In a class with some serious tackle talent, the Giants will have their pick of the litter. Wirfs is widely regarded as the top dog and blew away everyone at the Combine. Not only will he serve as a great protector for Daniel Jones, but his mauling run-blocking style could also help pave the way for Saquon Barkley for years to come. He'd likely start off on the right side, and then simply slide over to left once the Giants cut ties with Nate Solder.
7. CAR – Jeff Okudah, CB, Ohio State: The best corner in the draft goes to a team in desperate need of help in the defensive backfield, especially after losing James Bradberry in free agency and (for whatever reason) cutting Eric Reid. Fortunately, Tre Boston was re-signed to a three-year deal and Juston Burris was an OK acquisition. Even still, though, the Panthers really need some help, particularly on the boundary. Okudah would immediately help in that regard from Day One.
8. ARI – Jedrick Wills, OT, Alabama: Not nearly as polished as Wirfs, what Wills lacks in completeness and brute strength, he makes up for in athleticism. His ability to move in space and keep up with speedy edge rushers will help allow Kyler Murray extend plays out of the pocket. And while he does have lapses in pass-protection at times, he can develop on the right side of the line for a few seasons since the team already signed left tackle D.J. Humphries to a new three-deal in February. Besides Humphries, the Cards need O-line help in a huge way, and Wills will provide that.
9. (TRADE w/ JAX) Denver – Jerry Jeudy, WR, Alabama: Courtland Sutton broke out in his second season, and he and second-year signal-caller Drew Lock could be quite the explosive pair again in 2020. However, Lock still needs more weapons, and Jeudy is probably the most complete, pro-ready receiver in the draft. His ability to play inside and outside will compliment Sutton's dominance on the sideline very well. Jeudy also has the jets to take it the house on any pretty much any play (24 TDs in his past 28 games at 'Bama). He and CeeDee Lamb are very close in terms of being the top wide-out in this class, but I gotta give the edge to Jeudy.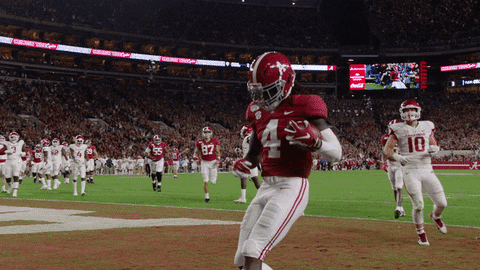 10. Cleveland – Andrew Thomas, OT, Georgia: Jack Conklin was an excellent signing to shore up the right side of the O-line, but Baker Mayfield still needs help on his blindside. While Wirfs and Wills are the exciting, shiny sports cars with more upside, Thomas is the less sexy but super reliable Toyota Corolla who you know will always get the job done and is guaranteed to last for years. Much like the soon-to-be Hall of Fame left tackle the Browns used to have with the same last name, this Thomas will also be an anchor and team staple in Cleveland for the next decade or more.
11. New York Jets – CeeDee Lamb, WR, Oklahoma: As I said, you could easily make the argument for Lamb being the top WR in the draft, and Sam Darnold should do cartwheels if the former Sooner lands in the Big Apple. Especially after losing Robby Anderson to Carolina this offseason, Darnold needs some talent to throw to in a big way. The Breshad Perriman signing was nice, but especially with Quincy Enunwa's health being a big question mark, Lamb would likely become the WR1 for the Jets right out of the gate. This dude is a PROBLEM in the open field, and he'll become the best playmaker the Jets have had in quite some time. Seriously, though, just look:
12. Las Vegas – Justin Jefferson, WR, LSU: After Jeudy and Lamb, most view Henry Ruggs as the next best receiver in the class, and many might feel this is too high for Jefferson. However, Raider's GM Mike Mayock made it pretty clear last year that he values high-character, championship-experienced guys above all else, and he doesn't give a flyin' you-know-what about others' "projected draft slots" (e.g. his choice of Clelin Ferrell at No. 4 overall last year). Jefferson fits the Mayock Mold to a T, and let's also not forget that the dude put up 111 catches for over 1,500 yards as Joe Burrow's No. 1 guy last season. He also posted a 4.43-second 40 at the Combine. To be honest, he's probably better than Ruggs, and he is tailor-made for the Raiders.
13. San Francisco – Javon Kinlaw, DL, South Carolina: Kinlaw might be the prospect with the highest range of outcomes in the class. A formerly homeless teen who worked his way up from JUCO to becoming an AP All-American and potential first-round pick, the dude is obviously a warrior. He's also got an incredible blend of skill and physical traits (6'5", 324 pounds) that would make most D-coordinators drool. However, he's also dealt with injuries (hip surgery) and, at times, inconsistent play which gives some pause. Still, after trading away DeForest Buckner and acquiring another first-round pick in the process, the Niners can afford to take a gamble on the 22-year-old's immense upside.
14. (TRADE w/ Tampa Bay) Philadelphia – Henry Ruggs, WR, Alabama: Jeudy was the go-to target for the Tide for the past few seasons, but Ruggs was the ace-in-the-hole, speed demon with insane 4.2-second speed. While he does possess some all-around ability, Ruggs could end up being exactly what the Eagles were hoping the second coming of DeSean Jackson would become. He'll serve as the new deep threat for the big-armed Carson Wentz, and the Eagles will have no issue trading up to get him. If they don't, he won't last much longer than this.
15. (TRADE w/ Denver) Jacksonville – Derrick Brown, DT, Auburn: Once considered a top-five pick, a weak Combine performance and positional value is cause for a bit of a drop. Unlike Kinlaw, Brown is a bit more rigid in terms of where he can play along the line and doesn't have quite as much burst. Still, he was a First-Team All-American and can absolutely dominate opponents across from him in the trenches. After trading away Calais Campbell, Brown could soon become the new anchor on the D-line for the Jags.
16. Atlanta – Yetur Gross-Matos, EDGE, Penn State: While the Falcons could go for another corner here, I'm actually a fan of Isaiah Oliver and they need more pass-rushers, even after signing Dante Fowler. Gross-Matos is a high-upside, versatile defender who can play standing up or as a down lineman in a 4-3. He also compiled 17.5 sacks and over 90 total tackles across his past two seasons for the Nittany Lions.
17. Dallas – Grant Delpit, S, LSU: While Gross-Matos would've been a nice replacement for Robert Quinn, the Cowboys have also needed safety help for a while now. And after losing their former leader of the secondary in Byron Jones to free agency, they need another field general to man the back half of the defense. Though he may be a bit lacking in the pass-coverage department, he can set the tone and lay the wood with the best of 'em. Again, he lacks the range and technique many might want from a first-round safety, but the potential for more is definitely there and he was a title-winner. The team also went out of its way to meet with Delpit specifically at the Combine last month.
18. Miami – Austin Jackson, OT, USC: A lot of people might be shocked to see Mekhi Becton still on the board at this point, and they might think I'm foolish to think he wouldn't be the pick here. However, per multiple reports, Jackson has been skyrocketing up many draft boards lately, and much like Becton people are also in love with his potential. Both are raw, but there might actually be less red flags with Jackson, specifically in terms of weight/size management. Flores and Co. are also the perfect type of crew to coach a guy like Jackson up, and there's no doubt that Miami is in desperate need of help along the O-line.
19. Las Vegas – C.J. Henderson, CB, Florida: Henderson might be the most undervalued player in the entire draft. The 2019 First-Team All-SEC cover man put up some solid stats (11 PBUs and 33 tackles) in only nine games last year against some serious competition. The Raiders also gave up the eighth-most passing yards per game in the NFL last season. Henderson would be a welcomed addition.
20. Jacksonville – Jordan Love, QB, Utah State: Before all the Minshew Maniacs attack me for this one, this pick actually makes a lot of sense. I do not expect Love to beat Gardner Minshew in camp this season, but his long-term upside is WAY higher. (Think poor man's Patrick Mahomes in terms of ability and playing style. Yeah, I said it!) Also, if the team was really sold on Minshew, Foles wouldn't have had a chance of getting back on the field at the end of last year, contract-related reasons or not. This is also the second of Jacksonville's two first-rounders this year, and I mocked them to get even more picks with my previously predicted trade with Denver. In the NFL, teams are smart to hedge their bets, and there's really not a lot for the Jags to lose by rolling the dice on Love here.
21. (TRADE w/ PHI) Tampa Bay – Mekhi Becton, OT, Louisville: The slide finally ends for the 6'7", 364-pound mountain of a man. His titan-esque size and power alone guarantee that he'll be a force to be reckoned with against any level of competition. At the same time, though, these very same attributes can cause for significant issues with movement and technique. But his upside is too much to pass on here, and the Bucs are in desperate need of an upgrade at right tackle. Donovan Smith, who is a much better pass-protector, can protect new QB Tom Brady's blindside, while Becton serves as a monster, road-grader on the other. In fact, Becton's presence will be key for who I expect for the Bucs to take with their next selection (oooh foreshadowing). It's going to be fun watching to see what this guy ultimately becomes, which truly could be great.
22. Minnesota – K'Lavon Chaisson, EDGE, LSU: There's no doubt that there is a GLARING hole at cornerback after the team saw its top three from last year all leave this offseason. However, there are still a couple solid potential choices left at the position, and the Vikes can grab one with their next selection at 25. Getting another rusher off the edge is also a big need, especially after losing long-time stalwart Everson Griffen. Chaisson is a long, quick but still powerful rusher who served as one of the Tigers' team leaders since he was a freshman, even though he did miss all but one game in 2018 with an ACL injury. Last year, he bounced back in a major way, posting 6.5 sacks, 13 TFLs, and helped secure a national championship to boot.
23. New England – Patrick Queen, LB, LSU: Queen is exactly what the Pats defense has been missing for the past few seasons. Not a major thumper or pass-rusher, Queen is instead super fast and excels in coverage and playing sideline to sideline. He could probably even play safety in a pinch, if necessary. He can be what the team was hoping Jamie Collins was going to be (both the first AND second time around). Losing Kyle Van Noy to Miami is also going to hurt a lot more than most people think. And while Queen is not the same type of player, he'll add a new element and bring versatility to what is already a pretty loaded D in Foxborough.
24. New Orleans – Kenneth Murray, LB, Oklahoma: Murray is basically Queen with a bit more size, and honestly these last two picks could easily end up being flip-flopped. Murray takes a bit more risks than Queen, but he also has more concrete college production to back him up. Demario Davis can handle one side of the field, and Murray can be relied upon to make plays on the other. For a team with little needs, the Saints just keep getting better.
25. Minnesota – Trevon Diggs, CB, Alabama: The Vikings get their cornerback here, and maybe one of the biggest steals of the first round so far. He has it all: size, speed, strength, and four years of experience under the legendary Nick Saban. OH, and he also happens to be Stefon Diggs's little bro (YUP!). This should be fun…
26. (TRADE w/ MIA) Detroit – A.J. Epenesa, DE, Iowa: Kind of like Andrew Thomas, Epenesa is a no-nonsense, consistent, experienced, reliable player at his position. A coach's dream who won't win with outstanding traits or athleticism, but someone who still put up 23 sacks the past two seasons and does very little wrong. He's the exact type of guy Matt Patricia wants on his team and will almost be a mirror-image of Trey Flowers on the other end of the defensive line.
27. Seattle – Xavier McKinney, S, Alabama: To be honest, McKinney is probably the better all-around safety talent than Delpit, and I wouldn't be shocked if he went first. I just think the Cowboys like Delpit better. Good for the Seahawks, who get an incredibly smart, consistent backfield leader at the end of the first round. He can bring the type of talent and leadership that's been severely lacking since the end of the old Legion of Boom.
28. (TRADE w/ BAL) Tampa Bay – Jonathan Taylor, RB, Wisconsin: As a Patriots fan for the past two decades, I can tell you that a Tom Brady offense without a consistent running game is like pizza without a topping; it's still pretty damn good and gets the job done, but it is far from being at its best. The G.O.A.T. uses the ground game to set up play action better than anyone, and through two seasons now, Ronald Jones has just not proven that he can be the guy. Taylor is an absolute STUD, who put up over 6,100 yards and 50 TDs on the ground for the Badgers over the past three seasons, and he can be relied upon to tote the rock 20-25 games per game right away. His presence would also allow RoJo to focus on being a pass-catching weapon out of the backfield, where he excels.
29. Tennessee – Clyde Edwards-Helaire, RB, LSU: Some people might be confused to see the team with last season's leading rusher take another back with their first pick. But two things: 1) Derrick Henry was tagged and not given a long-term deal, and 2) Edwards-Helaire is not the same type of player. CEH will give the team an elite pass-catcher out of the backfield (what Dion Lewis was supposed to be), and he could even take over a featured role for a bit if Henry ends up leaving next offseason.
30. Green Bay – Jalen Reagor, WR, TCU: Basically a clone of former Aaron Rodgers favorite Randall Cobb (5'10", 194 pounds, 4.46-second 40), Reagor (5'11", 206 pounds, 4.47-second 40) is a smidge bigger and would give the Packers a counterpart to superstar receiver Davante Adams. Guys like Marquez Valdez-Scantling and Geronimo Allison (who's now in Detroit) just didn't work out as planned, and A-Rodg needs more playmakers. Plain and simple.
31. San Francisco – Jeff Gladney, CB, TCU: Small, speedy, and silky like his teammate taken one spot before him, Gladney would help the Niners at a position without a ton of talent behind Richard Sherman. Gladney would also be able to focus on the more explosive opponents Sherman can't keep up with anymore, and he could learn the finer points of the game from the future HOF.
32. Kansas City – Kristian Fulton, CB, LSU: Yup, that is officially SEVEN former Tigers off the board in the first round. (Guess that's what happens when ya win the big one.) Anyway, Kendall Fuller departed for Washington, and at this point, it doesn't look like Bashaud Breeland or Morris Claiborne are coming back either. For a team that was already pretty shaky against the pass to begin with, they're kind of forced to go corner here. Fulton remains the best of the bunch and is also coming off a title-winning season of his own. Fulton is also very talented and received plus marks from PFF; had it not been for a lengthy suspension for masking a urine sample a few years back, he'd likely have gone much higher than this.