Hopefully your eyes didn't roll too far back into your head after reading the headline.
But seriously, while many in Pats Nation are ready to write off the oft-troubled 27-year-old after his de-railed comeback attempt with the Patriots last season, both the team and the wide receiver himself are not ready to do so.
First, we received this little nugget from one of the NFL's leading talking heads, Ian Rapoport, back on Super Bowl Sunday:
From @NFLGameDay: #Patriots WR Josh Gordon is doing better in rehab, and while the focus is solely on improving his life, he could be back by camp. pic.twitter.com/iVW69gBioi

— Ian Rapoport (@RapSheet) February 3, 2019
Then, last week, the Patriots decided to tender Josh Gordon, a restricted free agent, at a second-round level. Basically, this means the team will be able to retain his rights, and anyone that tries to sign him away this offseason would need to give the Pats a second-round pick. (I promise you that nobody is going to do that, so he will be back in New England if he plays next season.)
And finally, we were treated to a couple of Instagram posts from his trainer this past weekend in an effort to let the people know his client isn't ready to hang 'em up just yet. (Check the clips out here and here.)
OK, he looks great and all, but my fear with him was never about whether or not he could still get it done as a player. By all accounts, he was fantastic for the team in his brief time on the field last season; in 11 games with the Pats in 2018, Gordon caught 40 of his 70 total targets for 720 yards with four TDs. For the season, he finished with an average of 17.98 yards per grab; over his past six games with the Pats, he averaged an even more impressive 19.5 YPC.
Point of the story: the guy can obviously still ball.
It's all that "other stuff" that we need to be concerned about, as the guy just can't seem to shake all of those off-field demons. Furthermore, we still don't even know exactly when the NFL will allow Gordon to return to action. As mentioned in the Rapoport tweet above, he "may" be back by training camp, but there has been nothing concrete reported pertaining to when Flash might be able to play again. It's anybody's guess at this point.
But as Lloyd Christmas once famously said: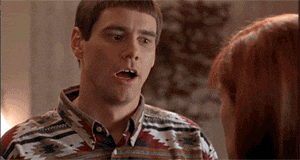 Here's to hoping the young fella finally pulls it together, once and for all, and gives the Pats a weapon they so desperately need in 2019.
Keep those fingers crossed, Pats Nation.