Heading into the offseason, most people agreed that wide receiver was a desperate area of need for the Pats. Actually, it was probably THE biggest are of need before the retirement of Rob Gronkowski.
Up until the weekend of the draft, however, it looked like the team was barely willing to do anything to improve its laughable depth at the position, and it really looked like Brady would be throwing to Julian Edelman and a bunch of trash cans in 2019. While the team supposedly went hard after Adam Humphries in free agency – before he ultimately signed with the Titans – I'll admit that I was pretty heated that through March and most of April nobody of value had been brought in.
Well, I mean there was the signing of Bruce Ellington, a 27-year-old journeyman with a measly 79 career catches in 44 games who is missing a third of his left hamstring! (No, but really, he is.) And I place emphasis on the word "was," because the guy was just cut on Thursday before even getting to sniff the field in a Pats uniform. So there goes that.
The team also signed former Washington wide out, Maurice Harris, who actually might have some sneaky potential and is only 26. And they took a flyer on a likely completely cooked Demaryius Thomas.
But besides that, the team did nothing until draft weekend, when they used their first-round pick on former Arizona State stud receiver N'Keal Harry. (A move that The 300s faithful already know I wholeheartedly endorse.) And then on May 10, they made a sneaky good signing by inking Dontrelle Inman. More on him in a second.
There's also the whole Josh Gordon saga that continues to drag on. Will he play this season? Will he fall back into his old ways? Find out on the next episode of As the Flash Turns…
With so many new faces and questions remaining, it's tough to keep track of exactly who will be serving as Brady's top targets next season. And while there's still an entire offseason and plenty of time for things to change and be fleshed out, here's a quick look at the team's current stock at the position along with a prediction of what the pecking order will look like heading into September.
Julian Edelman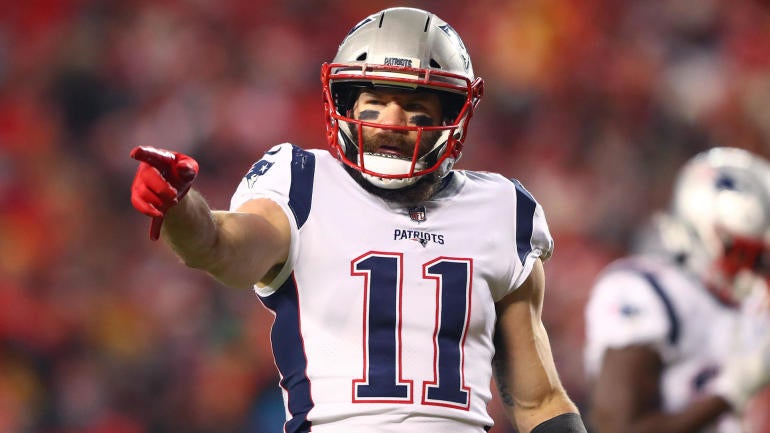 Old Faithful will be returning for his 10th season in a Pats uniform this year, and you can lock him in for another 150-plus targets, 90-plus catches, and at least five or so touchdowns as Brady's No. 1 guy. Everyone knows that Jules is the engine that truly keeps the team's offense moving, and his MVP performance in last year's Super Bowl was one for the ages. Were it not for him (and Gronk) the team would have barely been able to move the ball in that game at all, and there is nobody who Brady has ever trusted more in his career, besides maybe Wes Welker.
Say what you want about him being 32 years old and "injury prone." But were it not for last year's suspension he likely would have played in 16 games for the second straight season. Also, besides 2015, Edelman had also played in at least 14 games in each of the two previous seasons before that. The point is, the whole durability issue with him is completely overplayed, and he's shown literally zero signs of slowing down any time soon. Jules is the unquestioned leader of this group and all-time Patriots legend. Thank GAHD we still have him.
N'Keal Harry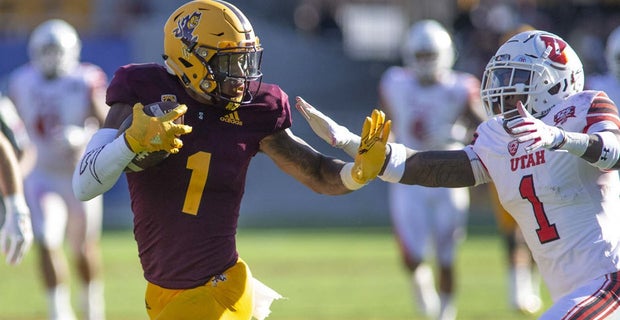 It is super impressive to see a rookie already being viewed as Brady's No. 2 option at wide receiver, but that's pretty much how it looks right now. Of course, it's hard to predict how any newcomer will adapt to the pro level, but considering Harry was one of the most consistent and productive college wide receivers in recent memory, it's not out of the realm of possibility.
On the night he was drafted, I already wrote a quick breakdown of the type of player Harry is and what he could provide for the receiving corps. The way he uses his body to win against opposing defenders and his strong after-the-catch ability can help to provide some of the physicality missing in the absence of Gronk. (Again, "some." Nobody is EVER replacing Gronk. I want to make sure I say that loudly enough so people in the back can hear it.)
I'll stop there, because I don't want project too much about a guy who hasn't played even one NFL down yet. But I'm definitely excited about this kid.
Dontrelle Inman
Now, some people might assume that Phillip Dorsett is automatically slated to be a top-three receiver on this team due to his familiarity with the system and the flashes he showed at times last year. But, to be honest, I think Inman will rocket up the depth chart in camp and could actually even be the No. 2 receiver by season's end; I think this dude is being slept on big time, and I'm surprised the Pats were able to get him this late into the offseason. (I know Joey B agrees with me, too. He actually made a very astute comparison to the signing of Brandon LaFell a few years ago, and I could totally see Inman having that same type of impact.)
Inman is another big-bodied guy (6'3″, 205 pounds) who has bounced around a few teams the past couple of seasons (Chargers, Bears, Colts), and I'm not really sure why. In 2016, he put up 810 yards on 58 catches while playing with Philip Rivers. The Chargers even placed a second-round tender on him the following offseason when he was set to become a restricted free agent. And in just four starts with the Colts last year (nine games played overall), he hauled in three touchdowns with 28 catches on only 39 targets.
Again, I have no idea why he's shuffled around the NFL as much as he has in recent years, but this is actually a really good signing. Inman could honestly surprise a lot of people this year playing with the G.O.A.T.
Phillip Dorsett
After a disappointing first go-round with the team in 2017 after coming over in a trade from Indy, Dorsett actually took a huge leap in 2018. Not only did he almost triple his amount of receptions from the previous season (from 12 to 32), but when Brady went to him last season, it was pretty much successful every time. For such a small, "speed" guy, it's really impressive to see that he had a 76 percent catch rate; in fact, from Week 5 onward Brady and Dorsett had a 100 percent throw-and-catch rate, meaning that Dorsett caught every single ball Brady threw his way over the final three-quarters of the season.
OK, sure, that may have only been on just 16 total targets, and there were seven games last year where Dorsett was not even targeted once. But there's no doubt that he's earned the trust of Brady and McDaniels, and he's a more than solid No. 3/4 option in the passing game with game-breaking jets. And let's not forget that this guy was once a first-round draft pick, too. I'm really glad he ended up re-signing with the team this offseason.
And now here's where it gets a little tougher to sort out. For starters, rarely do the Pats rely much upon more than three or four wide outs every season; especially with the involvement of the tight ends and James White (the team's leading pass-catcher in 2018), the team doesn't really need much behind the four receivers I've already hit on above. But there are still two former Pro Bowlers and some other young talent on the current roster who could rise to the opportunity and secure a role at some point this year. Here's a quick look at a few of those guys.
Josh Gordon: Where to begin? By now, I think everybody is pretty well-versed on the 28-year-old's trials and tribulations throughout his career, but there's no doubt he showed the ability to still be one of the game's elite wide-outs in the 11 games he played for the Pats last year. Many might be surprised to see he put up 40 catches and over 700 yards for the team last year before once again succumbing to previous transgressions which forced him to miss the final two months of the year. But like I said in March, he might not be done just yet and did officially re-sign with the team this offseason. And if he does finally get himself back on track? Holy hell. Watch out, NFL.
Demaryius Thomas: Another one of the game's former elites, the Pats took a flyer on Thomas this offseason in hopes he can regain some of his previous form which saw him average 96 catches, 1,303 yards, and 8.5 touchdowns per season from 2012-2017 out in Denver. (Yeah, this dude used to be STUPID good.) Age and injuries have derailed him in recent years, but much like Gordon he could end up being just another entirely unfair piece for the Pats offense if all goes well. Or he could be cut by the end of training camp… To be honest, at this point I'm not expecting too much from him at all. Fingers crossed, though, because Thomas was once an absolute monster.
Maurice Harris: The fourth-year player out of Cal spent his first three seasons down in Washington. After having just 12 career grabs over his first two seasons, he stepped it up with 28 last year. So far, he certainly hasn't done anything to write home about overall, but he did hang 10 catches and 124 yards on the Falcons in Week 6 last season before being forced to play with the likes of Mark Sanchez and Josh Johnson. Maybe TFB can get the best out of this kid. We'll see.
Braxton Berrios: Here's a guy who the casual Pats fan probably hasn't heard of yet, but his tires have been quietly being pumped by coaches and other industry talking heads for the past year. Drafted in the sixth round in 2018, Berrios didn't set the world on fire during his time in college with Miami, but he did earn Third-Team All-ACC honors in his senior year. A former team captain, valedictorian, and allegedly competitive as hell, he seems like a perfect guy for this locker room. Apparently, he profiles as a Julian Edelman type who excels on underneath routes and quick screens. We haven't been able to see much from him yet, especially since he was placed on I.R. last September and missed the entire season, but he is definitely a name to keep an eye on this summer.
The Pats also have Damoun Patterson, Jakobi Meyers, Ryan Davis, and Xavier Ubosi as the other camp bodies at receiver, but I think I probably have just as good of a chance of cracking the roster this year as any of these four.
So, again, while there's still a lot to be figured out before the games that really matter, at least Belichick & Co. have brought in some semblance of talent at wide receiver that was missing entirely just two months ago. This is going to be one of the best position battles to watch throughout the entire league this summer, and a part of me thinks it could actually be even better than what Brady had to work with last year.
The Pats are scheduled to kick off OTAs on May 20. So be sure to keep checking in with The 300s for all your Pats coverage!