Well, ladies and gentlemen, today is the today The Process finally ends, and how sweet it is to be the team that does it. The Sixers were always going to have a hard time beating the Celtics once Simmons went down for the year, but there was a glimmer of hope after Game 1 when Hayward got hurt. However, whatever light was left on their season was thoroughly stamped out by the drubbing in Game 2 and the lackluster finish in Game 3.
Tatum with the clutch block on Embiid! #LetsGoCeltics pic.twitter.com/GdExieyuOV

— Celtics News (@CelticsNewsNBA) August 22, 2020
Just in case you didn't watch, the Sixers were actually up 94-92 with under two minutes to play. But then they blew it. Embiid forced a terrible pass that was stolen by Smart, then got stuffed by Tatum, who then went on to block Richardson the next time down the court. The C's finished on a 10-0 run to win 102-94. And that, my friends, is the end of the Philadelphia 76ers as we know them.
Yesterday afternoon, news broke that the Sixers, down 0-3 in the series, actually CANCELLED PRACTICE the day before Game 4. If that's not throwing in the towel, I don't know what is.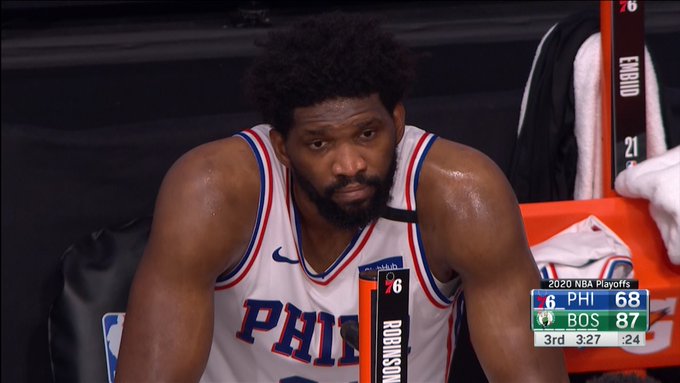 As much as Embiid seems to fade in the fourth quarter, obviously you can't blame this on him. As Scal said, Brett Brown should already have sold his house and started looking for a new job, but I don't think it's his fault either. The fault lies solely in the hands of Elton Brand.
It doesn't take a genius to know that Simmons and Embiid are a great core to build around. Beyond that, you need shooters. How easy is it for the Celtics to double team Embiid and just let mooks like Furkan Korkmaz and Alec Burks chuck bricks. You need real shooters around Embiid. Shake Milton and Josh Richardson are solid bench players, but that's all they are. The real question is, why pay Tobias Harris more than any other Sixer ever with a $180 million max contract, and then pay Al Horford another $109 mil for 4 years on top of that? WHAT ARE YOU THINKING??
Al Horford was on his bag tonight 😳

4 Pts 👏
2 Reb 💪
0 Ast 🔥
1 Blk ✋
23 Minutes 😱
-11 +/- 😈
Down 2-0 in the First Round 🤩
28 Million dollars received this season 💰 pic.twitter.com/gRRAuTyEQv

— Not A Troll Doe (@NotATrollDoe) August 20, 2020
Nearly $300 million on Harris and Horford has resulted in a combined 19.6 PPG, 17.3 RPG (fine), 6.7 APG, 1 steal and 1.6 blocks per game. They have hit exactly 0 threes in 13 attempts and have shot 34.9% from the field and 71.4% from the line. To put those numbers in perspective, Joel Embiid is averaging 30 and 13. It's absolutely mind boggling that Brand thought JJ Redick and Jimmy Butler could be replaced with this kind of production. Sixers fans are crying themselves to sleep thinking about how they drafted Markelle Fultz over Jayson Tatum.
76ers fan put on a blindfold while getting blown out by Celtics 🤦‍♂️

(➡️ @MichelobULTRA) pic.twitter.com/5lv6UdLURL

— Bleacher Report (@BleacherReport) August 20, 2020
What the Sixers need to do is start by firing Brand and Brett Brown. Some people think Embiid will be traded, or even demand a trade, but I think that would be a bad move. Those two aren't the problem. They need to get rid of the garbage contracts and add wing players who can shoot and play defense. DeMar Derozan, Marcus Morris, Evan Fournier, Goran Dragic, and Jordan Clarkson would all be good fits, assuming they can afford any of them. But they probably won't, so us Celtics fans will continue to laugh, flaunt Jayson Tatum and Jaylen Brown, and bury them once again.